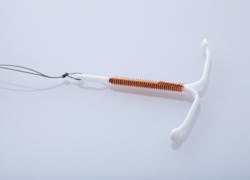 Yes, You Can Get Pregnant With An IUD, Experts Say. Here Are Some Signs
Shutterstock
It's rare, but it does happen
As far as birth control goes, the intrauterine device (IUD) is fairly foolproof. Unlike other BC, it's not something you have to think about, (like popping a birth control pill daily), and it's highly unlikely that you can get pregnant if you have an IUD… but not entirely impossible, either. That's why you need to know the signs you're pregnant with an IUD — because it could be really dangerous if you are.
Here's the good news: an IUD is more than 99% effective in preventing pregnancy, Planned Parenthood reported. So if you think about it, more than 99% would mean 100%, right? Not necessarily. It's in that .1% grey area where you could still potentially conceive, and if you have your IUD in, that's probably not what you were planning. The problem with getting pregnant when you have an IUD inserted is that it can do damage to both you and your unborn baby, OB/GYN Dr. Kim Langdon, MD, tells Romper in an email. "You have a higher risk of miscarriage and preterm birth if it stays there throughout the pregnancy," she says.
If you have had unprotected sex (meaning you didn't use a barrier like a condom) even though you had your IUD in, there's an ever-so-slight chance you might get pregnant. Here are your body's ways of telling you if you're preggo with an IUD.