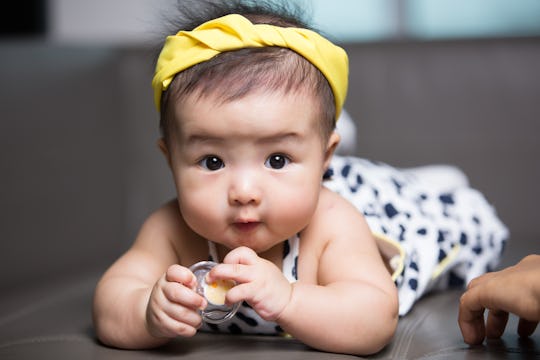 Shutterstock
7 Baby Name Generators To Try
Baby names are tricky. Help is here.
What's in a name? Surprisingly, anything and everything, it seems. If you're drained from coming up with and vetoing choices all day long or you just want to give something new a try, you might want to consider using baby name generators that are actually helpful. As it turns out, not all baby name generators are created equally. With the worldwide web at your disposal, there are options that fit pretty much any style, preference, or even baby name theme you could imagine. Looking for a sibling name generator? We've got you covered. Or a baby name generator that factors in last name? Yup, you'll find one here.
Naming a baby is a huge commitment, and there's a lot to consider. What if the name you pick now isn't cool in five years? Or worse, what if the name you pick is too cool, and all the kids in kindergarten have it? The fact is, trends change. Over the past decade, the world of baby-naming brought us quite a few trends — the "nickname" name, adventurous places as names, and dictionary-inspired names and, now "grandma" vintage baby names are on the rise.
From finding unique monikers to combining your name with your partner's, there are plenty of possibilities and fun to be had. Even if you don't end up sticking with one of the below, it could be just the spark of inspiration you needed to find the perfect name for your little bundle of joy.
And, since these baby name generators are online, you can easily share your findings to get input from your partner. Either way, hopefully they will help you come up with the perfect name for your little one.
Baby naming can be tricky — particularly if you've got tight parameters, like you're trying to match with your last name or a sibling name. But thankfully, these seven baby name generators can really help narrow your search. Happy naming!
This article was originally published on