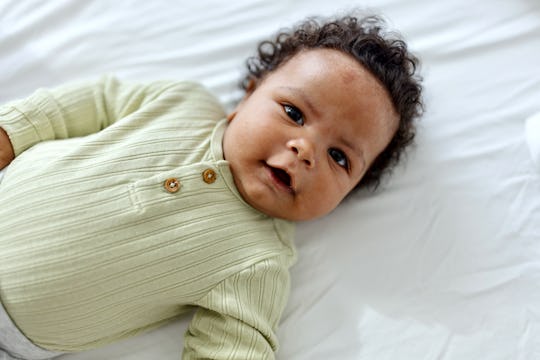 Anchiy/E+/Getty Images
11 Baby Names Inspired By Casper The Friendly Ghost
We're going to leave out Fatso though.
Baby name inspiration can come from anywhere — including your favorite movies. Whether you've got a spooky October baby on the way or just still have the hots for Devon Sawa, I think it's high time you consider baby names from the movie Casper for your own little friendly guy or gal.
Casper has been around a lot longer than some of us '90s kids remember, but the bulk of these baby names come from the 1995 movie Casper starring Christina Ricci, Bill Pullman, and a very cute, floppy-haired Devon Sawa. The movie is a classic, and after recently rewatching it with my own girls, I fell in love all over again. It's funny, it's sad, and it has an underlying theme of love deep within all of the characters and plot points. It's like the perfect ghost movie, and I just think there should be a million little Caspers, Amelias, and Harveys running around the world.
But don't worry — you don't have to take any of that sad energy with you when you name a baby after Casper. (And you also don't need to consider the names Fatso, Stinky, or Stretch.) If Casper was a favorite movie for you (or you were a big fan of the comics or cartoons), that's reason enough to choose a baby name inspired by the friendly ghost.
Whether you go for a deep-cut Casper-inspired baby name or something more obvious, please know that your baby will be even cuter than the Friendly Ghost.