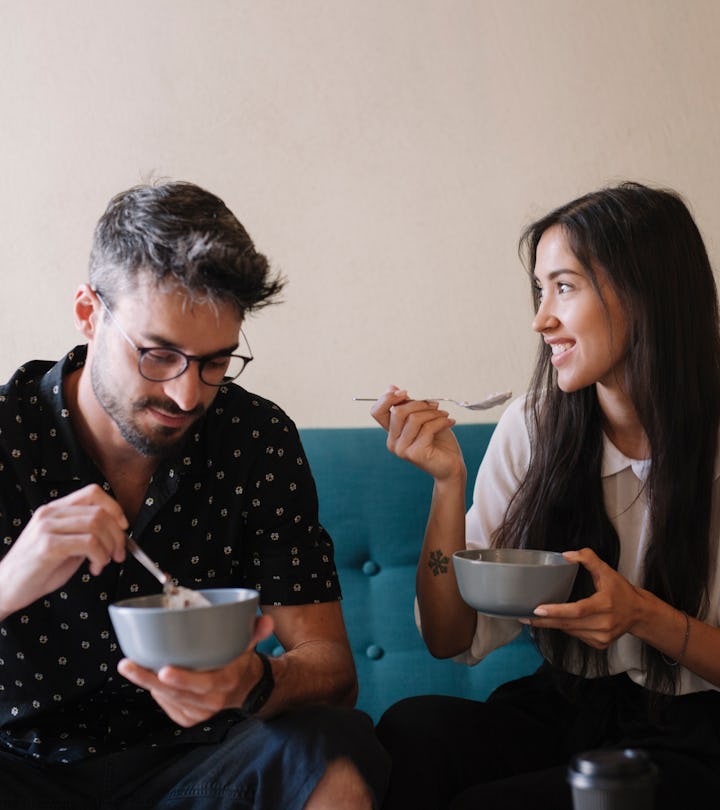 Westend61, Getty images
What To Eat When You're Trying To Get Pregnant
These foods can keep you healthy — and prep you for pregnancy, too.
When you think about it, we eat for so many more reasons other than hunger. We snack when we're feeling celebratory (or sad), or because we're stressed and want some soothing (or both). But you can also potentially eat your way towards becoming pregnant, too, simply by modifying your diet. Wondering what the best fertility foods for men and women when trying to get pregnant are? Well, get your shopping list ready and be sure to put some of these items in your shopping cart — along with a pregnancy test… just in case.
You've probably heard the antiquated expression, You are what you eat. Well, it's kind of true, especially in how it affects your fertility. "There are some foods that have been demonstrated to naturally boost fertility while others can lead to medical issues (like obesity and diabetes) that can impair fertility," Dr. Barry Witt, MD, a board-certified reproductive endocrinologist and Medical Director with WINFertility tells Romper. So the benefit of eating well and prioritizing natural foods is twofold: for your health and also to increase sperm and egg health.
If you're hoping for a positive pregnancy test result in your near future, it can't hurt to add these fertility-boosting foods to your diet.
The truth is that there isn't one food that is guaranteed to help you conceive. Instead, you should view a well-balanced diet and optimum nutrition as a step towards better health for you and your future baby. And when you do get pregnant, you'll have already (hopefully) adopted good habits that can counterbalance all those extreme pregnancy cravings you might have. So nourish your body now, and you can definitely improve your chances of seeing two pink lines on a pregnancy test.
Experts:
Dr. Barry Witt, MD, a board-certified reproductive endocrinologist and Medical Director with WINFertility
Dr. Kecia Gaither, MD, MPH, FACOG, double board-certified in OB/GYN and Maternal Fetal Medicine, Director of Perinatal Services at NYC Health + Hospitals/Lincoln
Brittany Lubeck, MS, RD, a registered dietitian
Dr. Cindy Duke, PhD, FACOG, a fertility expert and the Medical Director of Nevada Fertility Institute