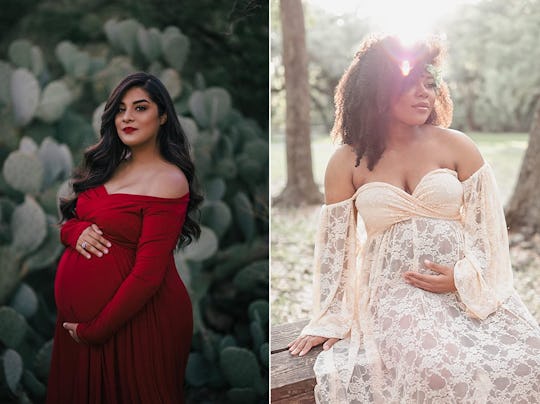 Amazon
The 13 Best Maternity Dresses For A Photoshoot
These stunning styles start from just $26.
We may receive a portion of sales if you purchase a product through a link in this article.
If you've decided to book a maternity photoshoot to document this special time in your life, the next step is figuring out what to wear. The best maternity dresses for a photoshoot will be plenty comfortable to wear thanks to bump-friendly features and make you feel stunning. As you shop, consider the theme and location of your shoot — whether you're taking your photos in a woodsy spot, on the beach, in a favorite indoor location, or even in the snow!
There's many different maternity dresses on Amazon, so consider the following factors when choosing the best one for your photoshoot.
When it comes to bump-friendly designs, maternity-specific dresses are likely a better option than sizing up on an ordinary dress because they are designed to accommodate your baby bump with features like extra fabric in the mid-section and ruching. Some maternity dresses may even have an open front design that'll totally show off your bump, should that pique your interest.
Finally, there are so many aesthetic elements to consider when choosing a dress, including different necklines and sleeve lengths, as well as extras like a sash, ruffles, lace, and more. Consider whether you're going for a more simple and subdued look, a statement-making option, or something that falls in between, and choose a dress that aligns with your style.
Shop The Best Maternity Dresses For A Photoshoot
In a hurry? These are 10 of the best maternity dresses for a photoshoot:
These maternity dresses would make excellent options for a photoshoot — and they all happen to cost less than $100.
About The Recommender
As a mom of two young children, Jenny White has spent countless hours researching baby-related products to determine the best of the best picks. She also took maternity photos while pregnant with both kiddos, so she's tried on her fair share of maternity dresses. Jenny has written for Romper since 2019, as well as other publications like Bustle and Elite Daily. She holds a bachelor's degree from the University of Missouri School of Journalism.