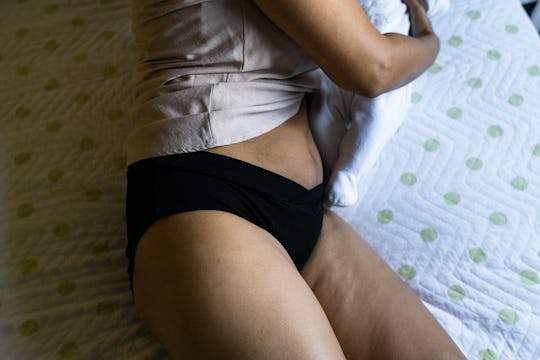 Igor Alecsander/E+/Getty Images
These Postpartum Pads Are The Best, According To Real Moms
Comfortable and effective.
Remember your first period? Perhaps the school nurse handed you what appeared to be a mouse mattress... a giant pad you could hardly imagine fitting in your underpants. OK, now take that image and double it. Got it? That's the size and structure we're looking for when it comes to the best postpartum pads. Don't shudder, trust us when we say you'll thank us for this advice.
The thing is, after you've delivered, a heck of a lot of postpartum bleeding, or lochia, is in order. This discharge may include blood (naturally), bits of uterine lining, mucus, and white blood cells. And this discharge can happen even if you have a Cesarean. So it's a good idea to plan ahead. Sure, the hospital will give you plenty of super jumbo postpartum pads (grab as many as you can get your hands on, you're paying for them after all), but you'll want to stock up on extras as well. But what to choose?
Here's the great news for pregnant people everywhere: postpartum pad technology is at a golden age. No longer are you limited to just cotton strips. The postpartum care industry is now thinking more holistically about delivery recovery which means products include everything from chilled pads to herbal pads, reusable pads to organic pads. So what's the best postpartum pad for you? It could be one or a few of the following.
We only include products that have been independently selected by Romper's editorial team. However, we may receive a portion of sales if you purchase a product through a link in this article.
Make your days of discharge a little less stressful by investing in advance in the best postpartum pads. That way you can focus your attention on what's important, that sweet new baby right in front of you.