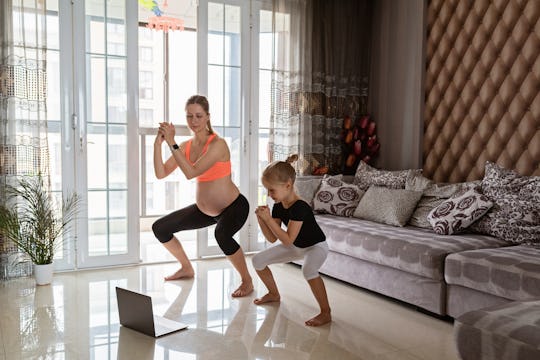 Shutterstock
These Are The Cutest Maternity Workout Clothes Ever
They're way cuter than oversized sweats.
Eating right and exercising is all part of having a healthy pregnancy, right? But if you have to waddle your way to a gym, you probably want to look pretty doing so, whether you're perfecting your Pilates or pumping iron. Having maternity workout clothes might not make you love working out, but these options will definitely keep you stylish while you exercise.
Now, could you just wear an oversized pair of sweats, your partner's tee shirt, and call it a day? Sure. Thing is, if you want to make the most of your workout, (and ensure that your pants stay put), you'll need clothing that hugs your curves while you lift those weights. And for moms-to-be, getting in enough exercise is very important, not just for your overall health, but that of the baby, says NASM certified personal trainer and certified pre- and postnatal fitness specialist Sabrina Stockel of FlexIt. "The physical benefits of exercise during pregnancy include greater strength to endure your increased weight, increased breast size, postural changes within your body and even just the tasks of everyday life," says Stockel, who adds that consistent exercise will help prep you for delivery. "As for the baby, studies have shown that exercise enhances the growth and function of the placenta, your baby's home."
Once you're given the green light to exercise by your OB/GYN, Stockel recommends working out regularly. "Once cleared by your doctor, I recommend pregnant women strive for 20-30 minutes or more of movement every day," she says. "This can be strength training, walking, dancing, swimming or any other form of safe activity. This will prepare your body for the demands of your growing baby as well as the demands of delivery."
So no matter what you're doing, you can don any one of these maternity workout clothes to maximize your workout — and look cute, too.
We only include products that have been independently selected by Romper's editorial team. However, we may receive a portion of sales if you purchase a product through a link in this article.
You won't be able to say you have nothing to work out in again when you opt to get some of the clothing options above. You'll be able to exercise safely — and stylishly — so that the focus can be on your (and your baby's) health…and how amazing you look while you're working up a sweat.