Drop A Heart, Break A Name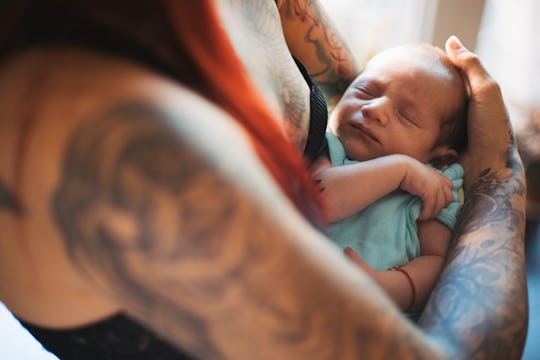 milorad kravic/E+/Getty Images
30 Emo Baby Names For Parents Who Still Stan My Chemical Romance
It was never just a phase.
Is this more than you bargained for yet? Choosing a name for a whole new human, I mean. Millennial parents will remember the emo music days of the early and mid-2000s, either fondly or with a big dose of cringe at how you dressed (like a walking Hot Topic ad). And while it's maybe not the traditional route for choosing the perfect name, considering some emo baby names might make you feel nostalgic and sentimental enough to actually fall in love with one. If nothing else, it's a fun walk down memory lane, one that'll have you pulling up old playlists to blare in the car.
If you somehow missed this cultural moment altogether, emo is a subgenre of rock and pop punk music that was all about the emotional lyrics and sappy subject matter. Naturally, that brought all the morose teenagers running, wanting to dress, cut their hair, and do their makeup like their favorite band members did. It spawned a generation of middle and high schoolers who looked a little scarier than your average, but really just had a deep, deep love for sad songs played a little too loud.
If you were one of them or still are now — giant side bangs, band tees, and all — then choosing an emo baby name might feel like a sweet homage to your own childhood, or a band who pulled you through the angsty years when no one else understood.
Maybe you found the perfect emo baby name on this list, or maybe you just remembered a song or two you used to love but haven't heard in years. Either way, listen to a sad song louder than usual today. Your teenage self will thank you.