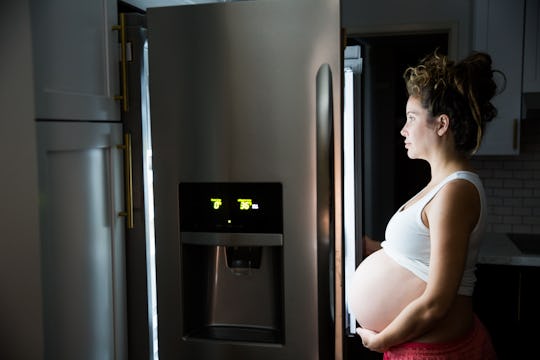 Vasileios Economou/E+/Getty Images
Best Middle-Of-The-Night Snacks During Pregnancy
Because you're just so hungry.
When you're pregnant, your metabolism goes into hyperdrive. Not only is your body responsible for keeping you charged up and moving, it now must feed a growing human being. And that's a lot of work. So much work, in fact, that you might find yourself with midnight hunger pangs. When that happens, these middle of the night snacks are what you should reach for.
Now cravings might be calling you at all hours of the day, but Caroline Thomason, a registered dietitian nutritionist in Virginia, says that if you're hankering for a treat past the witching hour, your blood sugar likely needs a boost.
"If you wake up in the middle of the night, your blood sugar might be too high or too low based on what you ate before. So I would try to re-stabilize your blood sugar," Thomason tells Romper. But what are the best bites to get your blood sugar in order and cure a craving that might be infiltrating your dreams? Fortunately, Thomason has plenty of healthy suggestions, real deal small snacks you can even prepare before bed so that you don't have to sleepwalk to the fridge and forage for something to cut the cravings asap.
This article was originally published on