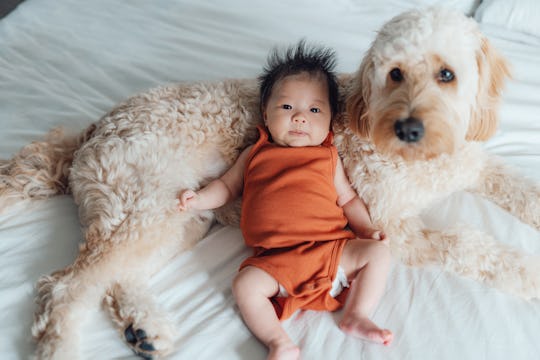 Oscar Wong/Moment/Getty Images
These Baby Boy Names Have Those Chill Libra Vibes
Because Libra babies like to keep the peace.
Even if you haven't given astrology much thought before, you can't deny the similarities the signs can have to parts of our personalities. You might be stubborn like Taurus, or highly independent like Aquarius. The same can be said of your baby-to-be, too, who just might develop some traits that are intrinsic to their sign. So as the scent of apple cider wafts through the air to let you know fall is not too far away, you might start thinking of names that can relate to the astrological sign Libra. If your baby's arrival is but a few weeks away, these Libra boy names can show some significance to their sign.
But when does Libra even begin? Well, the dates for this sign start on September 23 and end on October 22. It's the time of year when people swap out swimsuits for sweaters, and soups and stews simmer on the stove. It's a magical time of year, and for Libra, who practices peace-making on the daily, it's even more meaningful as the idea of gathering with friends and family becomes even more paramount. Something to keep in mind when you think about Libra boy names: Although Libra is practical, they're also ruled by Venus, so they're equally as passionate as they are pragmatic.
So if you're looking for a Libra boy name, the ones below are inspirational and represent all the cool qualities of this astrological sign.
As you prepare for the birth of your baby, take a looksie at some of these Libra names to see which ones could potentially be a keeper for your kiddo. You might be inspired by Libra's love of nature, love of kinship and family, their acerbic wit, or even the season itself. Because when it comes down to it, there really is so much to love about those sweet Libra babies that it just might be hard to choose a name for your lil' pumpkin.