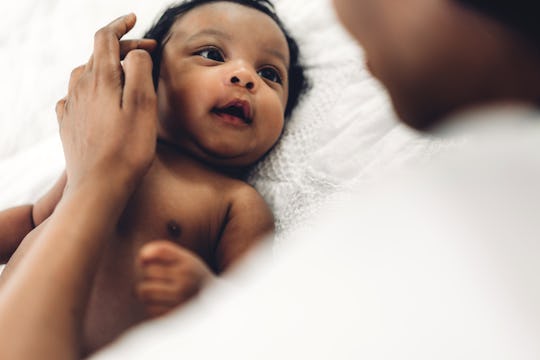 Shutterstock
These Baby Girl Names Are Perfect For Your Laid-Back Libra
They're such chill little creatures.
If you're due to deliver in early fall, you're in luck because you'll probably be giving birth to a Libra. The pint-sized peacemakers among all of the astrological signs, Libra is a lover of many things, but especially keeping things calm. And while your baby might be diplomatic, that doesn't mean that you'll get a baby who'll sleep straight through the night. If you want a name that is straight of the stars, you just might fall for these 15 Libra girl names that celebrate the season, the zodiac, and the sweetness of this astrological sign.
The seventh sign in the zodiac, Libra's dates run from September 23- October 22 — smack dab in the middle of apple and pumpkin picking season. That's why fans of fall (and purveyors of all things pumpkin spice-scented) will be overjoyed at welcoming a little Libra and thinking about Libra girl names. The air is crisp and cool outside, and you and your bump can feel all cozy loaded in layers because it's the season of sweater weather. And as for their personalities, Libra is exceptionally pleasant, loving, and well-balanced, which is why their symbol is the balance scales.
When you're looking for inspiration, these Libra girl names are cute and clever — just like your kiddo will be.
As you sip your pumpkin spice latte and indulge in apple cider doughnut holes, rub your belly and try saying all of these names for your little Libra baby. You just might get a kick when you come across one that your little baby approves of.