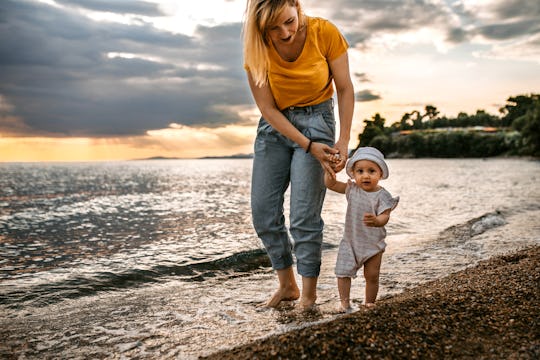 hobo_018/E+/Getty Images
25 Unique Baby Names Inspired By The Sea
If you feel most at peace at the ocean, try one of these baby names for your little love.
Picking a baby name can go one of two ways in my opinion. It can be incredibly fun and exciting, or it can be stressful. If you and your partner just feel completely overwhelmed with all the choices out there for names, perhaps it would be best if y'all settled on a theme to choose from, like baby names inspired by the ocean. That way, while there are still endless possibilities, at least you're both on the same page when it comes to that front.
Whether you and your partner have a connection to the ocean, or it's just something that inspires you when you think of your future baby, there are so many names to choose from. You could even go totally '90s with the nostalgia and name your child after King Triton's daughters from The Little Mermaid: Attina, Alana, Adella, Aquata, Arista, Adrina, or of course, Ariel. Apparently King Triton had the same idea when looking for ocean-inspired names, as all of his (fictional) children represent the seven seas, according to Quora. Attina is the Bering Sea, Alana is the Black Sea, Adella is the Mediterranean Sea, Aquata is the Coral Sea, Arista is the White Sea, and Adrina is the Caribbean Sea. Ariel is, you guessed it, the Red Sea.
But if none of those A-names work for you, then I've got you covered with these 25 oceanic names to choose from. From names that literally mean wave and sea to names that just have those sweet ocean vibes, there's something for everyone.