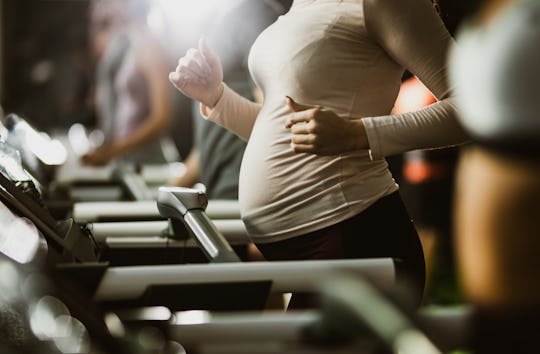 Skynesher, Getty Images
Here's What The Experts Had To Say About These 5 Early Baby Old Wives' Tales
Don't worry about the full moon.
Separating pregnancy myths from reality can get confusing, because there's so much info to sift through. For instance, many of the old wives' tales about early babies certainly sound convincing. But before you give up all spicy foods for the next nine months, learn what experts have to say about these adages.
For the most part, it's difficult to say why some babies are born earlier than others. "Preterm labor and delivery appear to have multifactorial causes. No real single cause has been identified," Kecia Gaither, MD, Director of Perinatal Services at NYC Health + Hospitals/Lincoln, tells Romper in an email. For the most part, a baby is generally considered early if they are delivered prior to 37 weeks of gestation, according to Stanford Children's Health, and early delivery carries a risk of health concerns, including small size and body temperature regulation issues. Understandably, expectant parents want the pregnancy to last full term, and it's definitely worth discussing your own chances of an early delivery with your physician. But unless you're displaying the actual signs your baby is coming early, such as regular contractions or backaches, then set those concerns aside. Remember, too, that pregnant bodies tend to be pretty hardy. "Many women consider pregnancy a 'delicate' time. This is far from the case! Your body is a lean, mean, baby growing machine and is actually at its most efficient," as Nicole E. Williams, MD, of The Gynecology Institute of Chicago tells Romper. That said, there's still plenty of myths about what causes babies to arrive early that need to get debunked already.
Experts:
Kecia Gaither, MD, MPH, FACOG, double board-certified in OB/GYN and Maternal Fetal Medicine, Director of Perinatal Services at NYC Health + Hospitals/Lincoln
Nicole E. Williams, MD, FACOG, FACS, The Gynecology Institute of Chicago
Studies:
American Journal of Obstetrics & Gynecology, November 2016, Exercise during pregnancy in normal-weight women and risk of preterm birth: a systematic review and meta-analysis of randomized controlled trials (core.ac.uk)
James, J. (2020) Maternal caffeine consumption and pregnancy outcomes: a narrative review with implications for advice to mothers and mothers-to-be, BMJ http://press.psprings.co.uk/ebm/august/ebm111432.pdf