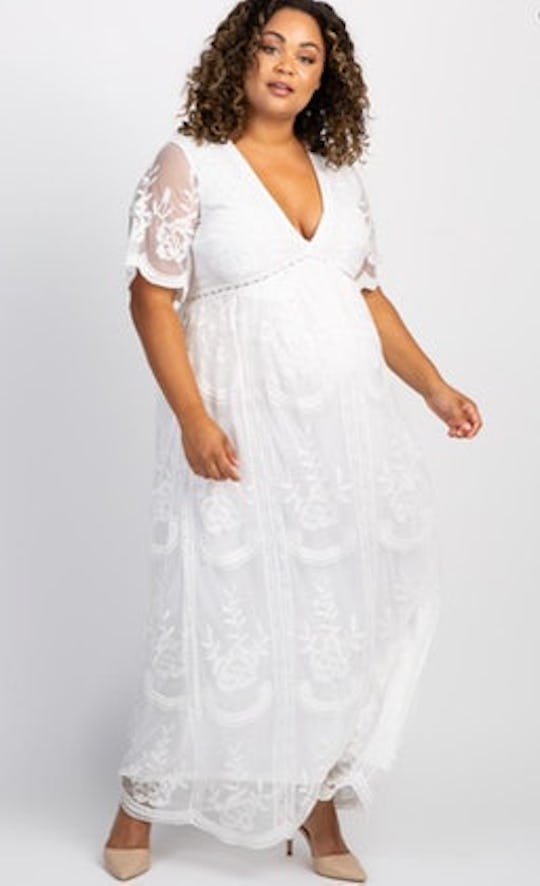 PinkBlush
These Plus-Size Maternity Dresses Will Make You Feel Like The Queen That You Are
And you can wear them again and again.
Your baby shower is a special event, and you definitely want to get all dolled up for it. But in addition to being beautiful for your shower, you should most certainly feel comfortable, too. After all, you don't want a dress that feels constricting. So if you're looking to look and feel fabulous, these plus-sized maternity dresses for your baby shower will make you (and your bump) feel fashionable — and fierce.
If you thought you were going to be sitting the entire time during your shower while loving friends and fam rush to bring you tasty snacks, well, you're partly correct. But if you've ever been to a baby shower, you'll notice that it's a marathon of a day. You'll be doing non-stop moving, posing for pics, opening presents, standing/sitting, and you need a gown that's got a lot of give as you go through the day.
The other thing about baby shower dresses is that they're usually a one-and-done deal. The fancy frocks often only get worn once, which means you might shell out a lot of money for a gown that's only going to get about 5-ish hours of wear. That's what makes these dresses ideal; many can be worn again (and again), simply by dressing them up or down as need be. And each time you put it on, you'll have those beautiful memories of your baby shower — even if you are only just running to the bank or picking up an older child from daycare or school.
So if you want to feel like the queen that you are, these plus-sized maternity dresses will keep you comfy and looking gorgeous, too.
We only include products that have been independently selected by Romper's editorial team. However, we may receive a portion of sales if you purchase a product through a link in this article.
Your baby shower is a big deal, and you're going to need a dress that, of course, looks amazing. But aesthetics aside, you should look for one that makes you feel fantastic and happy, because it is such a special day. And if you can get some extra mileage out of it post-party, that's even more amazing.