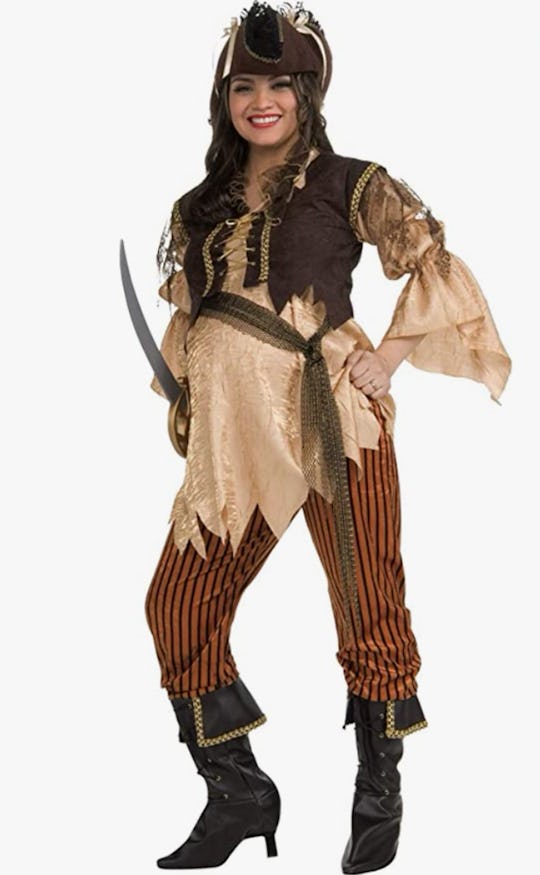 Amazon
From Sexy To Spooky, These Pregnant Halloween Costumes Will Make An Impression
There's something bootiful for every bump.
Halloween is a time of celebration, when you get to be anyone (or anything) that you can dream of. And if you happen to be expecting as October 31 approaches and are looking for a costume idea that will keep you comfortable, highlight your bump, and/or show off some of your glowing skin, these pregnant Halloween costumes do just that.
Once you start shopping for maternity Halloween costumes, you might notice that there's a shortage of options (come on, costume industry, it's time to catch up). If you're not excited about any of the offerings that are marketed as maternity wear, you can try sizing up a up a standard costume, which hopefully will give your belly enough breathing room as you trick-or-treat with your older child or allow you to feel comfortable (and not constricted) at the neighborhood Halloween party, or look for options that are loose-fitting enough that it won't matter if it looks like you have a bowling ball strapped under your top.
The costumes below are funny, sweet — and yes, some are even sexy. Perhaps you'll play the paradoxical part of a pregnant pirate, or literally turn yourself into an oven with a bun inside. You might dress up as the fab fruits of the season, such as an apple or a pumpkin.
No matter what you choose, you're sure to be the coolest mummy-to-be on the block.
We may receive a portion of sales if you purchase a product through a link in this article.
Maternity Halloween costumes can be cute, they can be scary, they can even be funny. But what they all are is special, since you're celebrating the holiday in a howlingly sweet way.
This article was originally published on