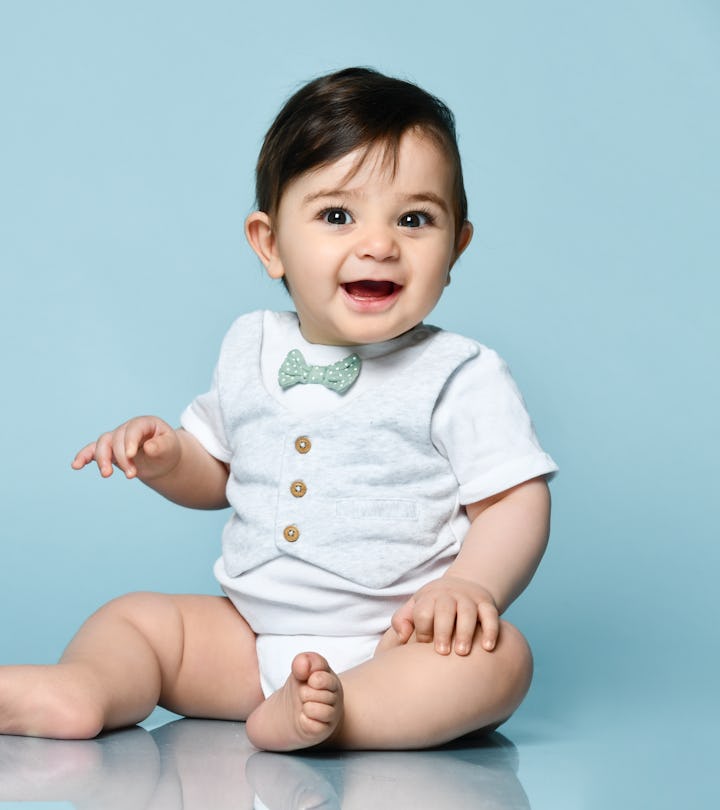 Shutterstock
Buy Their First Polo Shirt & Then Pick One Of These Preppy Baby Names
Preppy never goes out of style.
What makes a name "preppy?" It's a little hard to pin down, but you know a preppy baby name when you hear it. Some of it is simple association — a baby name is preppy when a lot of preppy people have it. But precisely what "preppy" means is itself a sticky question. There are certain definitive associations: the Ivy League, The Hamptons, boating, and generational wealth. But being preppy is, to some extent, a state of mind. In 1980, Lisa Birnbach published The Official Preppy Handbook, which let readers into the secrets of these sockless, popped-collared wonders. She writes that being preppy is partly about "ease and confidence" — who wouldn't want to have a child with those qualities?
Back in the '80s, The Preppy Handbook notes, prep schools abounded with nickname names — Muffy, Missy, and Buffy for girls, and Chip, Skip, and Trip for boys. Those names sound pretty dated now, though, so luckily there are some more modern preppy baby name options below.
Many preppy baby names follow a simple formula: take a last name, make it a first name. Many of these names are also unisex, so if you have your heart set on one of these names, it will often work beautifully whether your little bundle of joy is a girl or a boy. I can't promise that these names will give your baby a leg up on getting into Choate or Harvard, but they will fit right in if they do. Each name gets a very-scientific "preppy rating" (from "high" to "off the charts") so you can decide exactly how preppy is too preppy for your tastes.