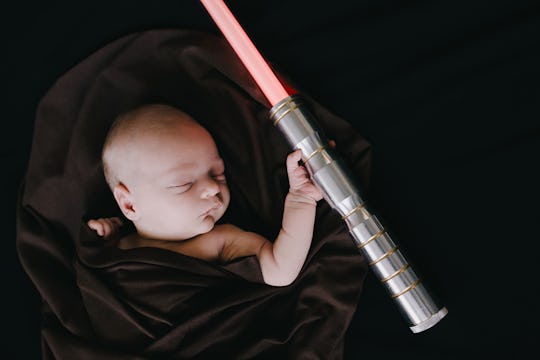 Shutterstock
Get Ready To Geek Out With These 20 Sci-Fi Baby Names
Feel the force, these names do.
You can draw baby name inspiration from pretty much anywhere. Movies, TV, books, and comics are all popular sources for baby names, but some fantasy super fans may be more drawn to sci-fi baby names than other trendy pop-culture monikers.
While giving your baby a Star Trek-inspired name isn't a guarantee that they'll "live long and prosper," sci-fi baby names do give parents a lot of fun potential for future birthday party themes, bedroom decor, and more. A baby name attached to a sci-fi franchise also doesn't automatically mean your kid will be a super fan, either. (Just ask the many non-Star Wars-loving Lukes out there.) But honestly, if you're a parent and a sci-fi fan, bestowing a fandom-based name on your kiddo can be just this tiny little sliver of hope that your little one might grow up to be as big of a fan as you are.
Popular baby names like Olivia and Noah have their place and all, but I'm sure I'm not the only sci-fi fan who wants to see more Gamoras and Gandlafs. Maybe only mega-fans are really going to name their baby something like Katniss, but there are still plenty of names on this list that are sci-fi adjacent without being totally in-your-face about it.