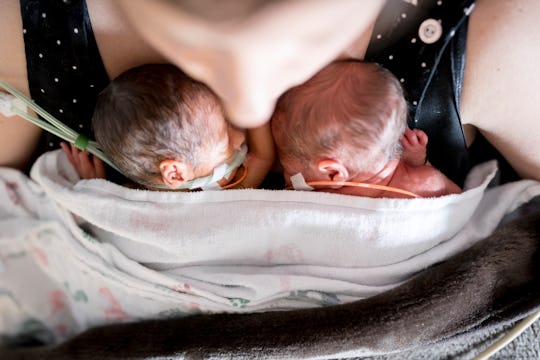 Jill Lehmann Photography/Moment/Getty Images
12 Birth Videos Of Twins & Triplets To Watch So You Know What To Expect
Having a baby can be unpredictable enough, but when you're having two (or three, or four), well, that's a lot of variables. Watching childbirth videos can help you get an idea of what exactly you're in for, and how all the possible ways you could give birth actually play out in real life. For some parents, seeing others' twin birth videos, triplet birth videos, and quadruplet delivery vlogs might just ease your mind that things really will all be OK.
When you're giving birth to one baby, you have a pretty clear path ahead of you: ideally you'll have a vaginal birth, but a C-section is always a possibility, though it feels unlikely. When you're giving birth to multiples, doctors are going to start talking to you about C-sections, inductions, and possibly NICU stays a lot sooner. March of Dimes says around 63% of multiples pregnancies end in pre-term labor, which means your care team is going to want you to know all the possible forms your birth could take.
And honestly, hearing all of that can be capital-S scary. There's no knowing exactly how your birth will look, but you can help yourself feel a little more prepared — and maybe find new questions to ask your providers — by watching twin and triplet birth videos. And when you see all the happy endings, it'll surely give you some peace of mind.
However you're preparing to welcome your multiples, watching twin and triplet birth videos (and quadruplets, too!) can help you get a better idea of what to expect.