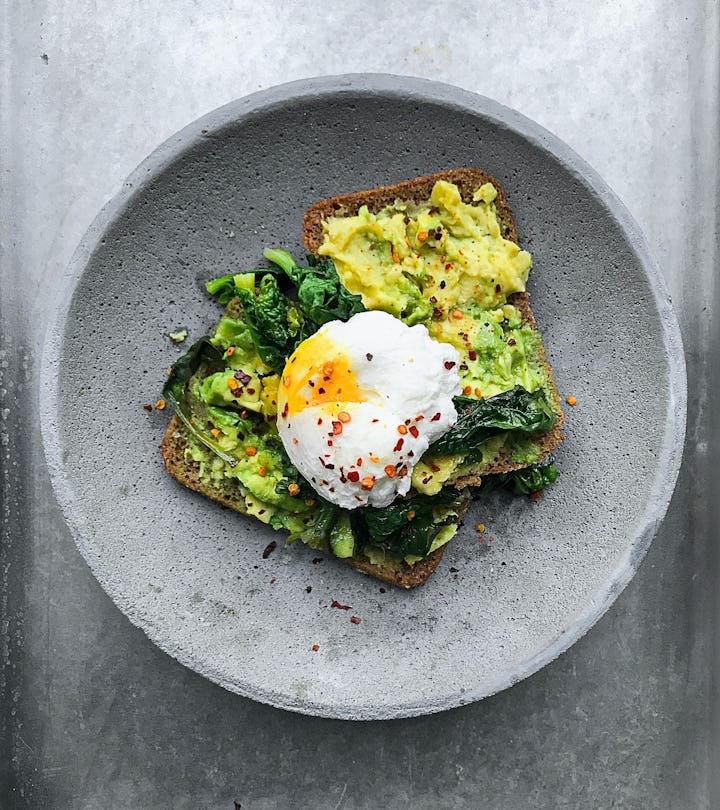 Riki Chettri / Getty images
17 Powerful Foods For Postpartum Healing & Recovery
Stock up on the foods your body needs at this physically taxing time.
Once your baby is born, this tiny, squirming, crying, helpless, and needy being may be the center of all your attention. While that's totally understandable, it's essential that you take care of yourself or at least make sure your partner knows how to take care of you. Your body is healing and you may be producing enormous amounts of milk to feed a growing being. A big part of caring for your newborn is making sure you are staying strong as well, and the best postpartum foods will help you heal after giving birth.
Just like the emergency instruction on flights, good postpartum nutrition is like putting your oxygen mask on first. "Your body needs key nutrients for healing and recovery post-labor," nutritionist Tara Bassi tells Romper. "Your body also needs the fuel to provide an adequate milk supply for your baby. In addition, essential nutrients are important for overall mental function, energy levels, and to decrease the risk of postpartum depression." Bassi recommends including a protein, fat, and carbohydrate at each meal to stabilize blood sugar and provide lasting energy.
Some women may feel pressure to eat less to lose the baby weight, but all the experts we consulted advise against doing so. "Balanced foods are essential not only to help you recover but to allow for breast milk if you are breastfeeding and to give you the energy to keep up with your new baby," says nutritionist Amy Shapiro, founder of Real Nutrition. "Sleep may be limited, so eating nutrient-dense foods that provide energy will help in these moments when you feel tired and will keep your immunity up and keep you healthy long after your baby grows older."
Foods to avoid postpartum
In addition to the foods you should include in your diet, there are some key ones you should avoid during the postpartum period. Shapiro recommends eliminating processed foods, excess sugar, and foods with artificial sweeteners, all of which provide quick energy, but then end up making you feel tired and lethargic. They also promote inflammation and provide minimal nutrition, and will not help with repair and recovery, she adds.
Whatever you do, however, don't beat yourself up about it. No one is recommending you cut all sugar out of your diet. Have an ice cream when you want it, just try to choose one with the fewest and purest ingredients, like milk, eggs and sugar. And if you're too exhausted and busy to eat anything except fast food some days, it's okay. But listen to your body and you may find what you crave postpartum are the nutritious and delicious foods on our list.
Don't forget to drink tons of water to keep yourself hydrated, which is key for producing breast milk, but also just good for you overall, postpartum or beyond.
Sources interviewed:
Tara Bassi, MS, CNS, LDN, CHHC
Amy Shapiro, MS, RD, CDN and founder of Real Nutrition