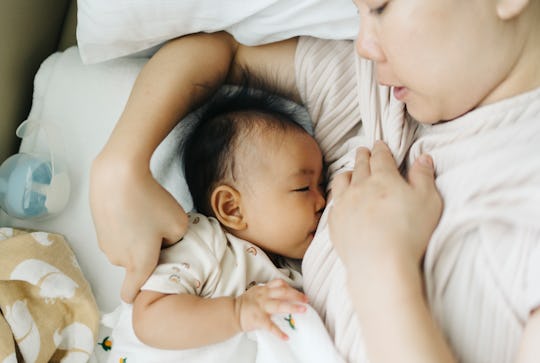 skaman306/Moment/Getty Images
These 13 Foods Will Boost Your Milk Supply, Experts Say
These foods will get things flowing again.
When you make the decision to breastfeed, you want to ensure that your baby gets the most milk possible at all times. But sometimes, that's easier said than done. If you're struggling to boost your supply, you might need to find some solutions to help get your girls going and make more breastmilk. Thankfully, you can eat your way to a healthier you (and more bountiful breastfeeding) with these 13 foods to boost milk supply.
If you thought that you were the only one concerned about your milk-making abilities, you're not alone. "There are definitely a lot of patients that come in after delivery and they're concerned about their milk supply," Dr. Vonne Jones, MD, FACOG, OB/GYN, a board-certified physician at Total Women's Care, in Houston, TX tells Romper. "They're noticing that they don't have an adequate supply in order to support their growing infant." But before you schedule a shopping trip to your local supermarket to buy some milk-making foods and herbs, you should speak with your OB/GYN or lactation consultant about your concerns. "Usually if patients come in, we'll first ask them 'How often are you pumping?' or 'How often are you putting the baby on the breast?'" says Dr. Jones. "Because the problem could be that they're not actually pumping enough or actually putting the baby on the breast enough, which is not stimulating the hormone, which is known as prolactin that allows for breastmilk."
After consulting with your pediatrician to ensure that your baby is gaining enough weight as well as an OB/GYN and lactation consultant to uncover any underlying health issues, get a big glass of water and get ready to rev up your appetite with the foods that can help get things flowing again.
As you might have noticed, chocolate cake and ice cream weren't on the list of food items to help boost milk production. And there's a reason why — as it turns out, the foods and herbs that are good for you, will be good for your baby (and your milk-making boobs), too.
Studies cited:
Venkata, K., Swaroop, A., Bagchi, D., Bishayee, A. "A small plant with big benefits: Fenugreek (Trigonella foenum-graecum Linn.) for disease prevention and health promotion" 2017.
"Milk Thistle" 2021.
"Fennel" 2021.
Alhaider, I., Mohamed, M., Ahmed, K., Kumar, A. "Date Palm (Phoenix dactylifera) Fruits as a Potential Cardioprotective Agent: The Role of Circulating Progenitor Cells" 2017.
Razis, A., Ibrahim, M., Kntayya, S. "Health benefits of Moringa oleifera" 2014.
Experts:
Dr. Vonne Jones, MD, FACOG, OB/GYN, a board-certified physician at Total Women's Care, in Houston, TX
Jada Shapiro, a lactation counselor and postpartum doula and founder of boober
Andrea Tran, RN, IBCLC, a registered nurse and lactation consultant
Leigh Anne O'Connor, IBCLC, LCCE, a lactation consultant