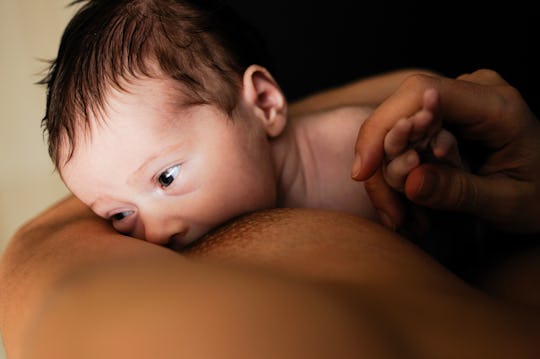 Javier Sánchez Mingorance, Getty images
Breastfeeding Anxiety Is Real: 7 Ways To Ease The Stress Of Nursing
You don't even have to be a parent to know that there is an awful lot of pressure put on expecting and new mothers to breastfeed their babies. This messaging is, of course, rooted in science and good intentions, but it can inadvertently contribute to new moms developing breastfeeding anxiety when things don't go as smoothly as they'd like. Moms who struggle with breastfeeding can even become so anxious over it that they question whether or not they are good parents.
"Some parents will obsessively weigh their baby, excessively pump in addition to feeding exclusively at the breast, or have overwhelming fears that they are not making enough milk for their baby," lactation consultant Amanda DeWeese, MPH, CPH, IBCLC, tells Romper in an email. She explains that this hyperfocus can affect their overall well-being, too, resulting in headaches, difficulty sleeping and/or concentrating, or changes in their appetite. Not only that but breastfeeding anxiety can also contribute to the development of a perinatal mood and anxiety disorder (PMAD), perinatal mental health specialist Kirsten Brunner, MA, LPC, tells Romper. "If a mom was planning on exclusively breastfeeding her baby, and she ends up having to supplement with formula, or even switch to formula, this can trigger symptoms of extreme anxiety and depression," she says, "These symptoms can progress into a full-blown PMAD."
So, what can you do to help ease this anxiety? DeWeese and Brunner offer several suggestions.
Experts:
Kirsten Brunner, MA, LPC, Perinatal Counselor or Perinatal Mental Health Specialist
Amanda DeWeese, MPH, CPH, IBCLC, LLL Leader
This article was originally published on