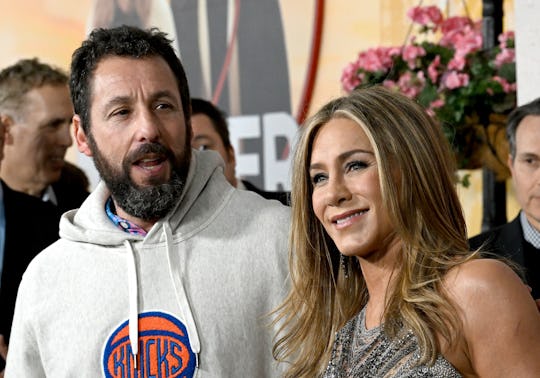 Albert L. Ortega/Getty Images Entertainment/Getty Images
Adam Sandler & His Wife Send Jennifer Aniston Flowers For Mother's Day Every Year
They have the most wholesome friendship.
Jennifer Aniston has two truly great friends in Adam and Jackie Sandler. The three have been friends for decades, so naturally the Sandlers are well acquainted with Aniston's difficult fertility struggles over the years. The actress has been opening up about the private pain she experienced trying to have a baby in her 30s and 40s, and what it felt like to be so publicly vilified in the media at the time. But in her private life, she's had the beautiful support of friends like the Sandlers, who have been sending her flowers for Mother's Day for years.
The Murder Mystery star sat down for an interview with the Wall Street Journal Magazine's Fall 2023 Women's Fashion Issue recently, and the subject of her long-standing friendship with Sandler came up. The two have known each other since they were in their 20s and have maintained a wholesome friendship over the years. A friendship that includes his wife Jackie. So much so that Aniston told the news outlet about the sweetest gesture the Sandlers have been keeping up for years. Since learning of her fertility struggles and journey with IVF, the couple now sends her flowers every Mother's Day.
Aniston spoke to Allure in 2022 about her attempts to get pregnant over the years. "It was a challenging road for me, the baby-making road," she said at the time. A challenge made worse by speculation in the media. "All the years and years and years of speculation… It was really hard. I was going through IVF, drinking Chinese teas, you name it. I was throwing everything at it." The Friends star, who was married to Brad Pitt from 2000 to2005 and Justin Theroux from 2014 to 2018, added, "I would have given anything if someone had said to me, 'Freeze your eggs. Do yourself a favor.' You just don't think it."
As a famously supportive friend, Aniston has been in the delivery room when some of her closest pals have given birth. She even admitted in 2021 that she's "gotten down there to see what's going on" instead of shying away from the whole process. She is godmother to Courteney Cox's daughter Coco and Lisa Kudrow's son Julian calls her "mommy." She has made a family out of her friends.
And they, in turn, have made her a part of their families. The Sandlers, who are parents to 17-year-old daughter Sadie and 15-year-old daughter Sunny, were there for Aniston as she went through it. And continue to be there for her today. Remembering her on Mother's Day with a bouquet of flowers is such a powerful way to honor her own journey and celebrate the beautiful life she has built for herself.