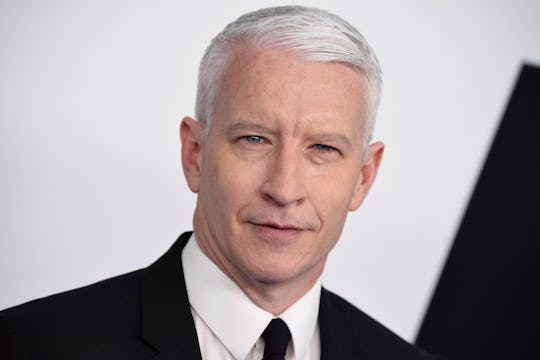 Variety/Penske Media/Getty Images
Anderson Cooper Shares Precious Video To Celebrate His Son Sebastian's 1st Birthday
He loves an old timey music box from grandma Gloria Vanderbilt.
Anderson Cooper's baby boy just turned one! Sebastian Luke Maisani-Cooper, who Cooper co-parents with Benjamin Maisani, celebrated his first birthday with his family and an old-timey music box that once belonged to his very famous grandmother and Cooper's late mother, Gloria Vanderbilt.
Cooper took to Instagram to share a video of his adorable son Sebastian, who is younger brother to 2-year-old "Cutest Baby Of 2020" son Wyatt, sitting on the floor with his birthday toy of choice: a tinny-sounding music box that once belonged to Vanderbilt, playing "It's A Small World" very slowly. Hard to imagine the famously stylish Gloria Vanderbilt tapping her toe along to the strains of "It's A Small World" but her son insists this is the case.
"Sebastian just celebrated his 1st birthday! He loves listening to an old music box that belonged to my mom," the CNN News anchor wrote on Thursday. "Sebastian is sweet and strong and smart and loves his big brother Wyatt a lot. They fill my heart with joy and love in a way i never imagined possible. Happy Birthday Sebastian!"
Sebastian was feted by more than just his own little family of his brother and two dads, of course. Cooper's longtime friend Kelly Ripa shared a photo of herself cuddling Sebastian with the message, "Joyeux anniversaire Sebastian 🎈i love you 🎂 (that was a fast year @andersoncooper @benjaminmaisani)."
Cooper has kept his family life fairly private since welcoming his two sons with Maisani. He shared a few photos of Wyatt and Sebastian at Christmas and has been known to share some of his own joy about becoming a dad at 52, something he wasn't sure would ever happen for him. Like when he wrote about his relationship with Father's Day last year, for instance. "For much of my life, Father's Day was the day i avoided, pretending it didn't exist, or that i'd forgotten what day it was," Cooper wrote in an emotional Instagram post last June. "The pain of remembering was just too great. The loss of my dad, who died when i was ten, was so painful, and still is at times. But today I celebrated Father's Day, remembering my dad, Wyatt, with little Wyatt and Sebastian and their Papa, Benjamin. I can't believe how lucky I am."
Cooper has lost both of his parents and his older brother, Carter, who died 35 years ago. But it's lovely to know his family carries on through his children, and his mother carries on through Sebastian's love of old-timey music boxes.