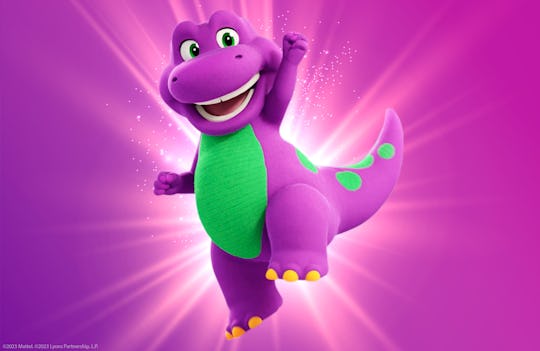 Mattel
Barney Is Making A Comeback With A New Animated Series, Toys, & More
The new animated preschool series is set to debut in 2024.
It has been 13 years since Barney, the big lovable purple dinosaur, graced our screens. There was a time period when Barney & Friends was "the" kids' show to watch for preschoolers, with pretty much every kid under the age of 5 claiming encyclopedic knowledge of all things Barney. Now Mattel is bringing us all back to that lauded space by relaunching Barney with a new animated series, so a whole new generation can learn all about kindness straight from the dinosaur's mouth.
On Monday, Mattel announced plans to reinvigorate the '90s-era Barney franchise, starting with a new animated series for preschoolers scheduled to launch in early 2024. The new series, which will feature Barney and his friends spreading their message of friendship and kindness through music-filled adventures, will be centered on the concept of love. Much as the original, often unjustly vilified, series was really just meant to teach kids about love.
"Barney's message of love and kindness has stood the test of time," Josh Silverman, chief franchise officer and global head of consumer products at Mattel, said. "We will tap into the nostalgia of the generations who grew up with Barney, now parents themselves, and introduce the iconic purple dinosaur to a new generation of kids and families around the world across content, products, and experiences."
The new animated series, along with branded YouTube content, won't be the only way a whole new generation can enjoy Barney along with his original fans. Mattel is also planning to launch a full range of kids' products including toys, books, and clothing, and what's more there will also be adult branded items as well. Clothing and accessories featuring the classic Barney image from the '90s will be a huge hit with parents.
"In creating the new series, it was important to us that we properly reflect the world that kids today live in so that the series can deliver meaningful lessons about navigating it," said Fred Soulie, SVP and general manager of Mattel Television. "With our modern take on Barney, we hope to inspire the next generation to listen, care, and dream big. We think that parents, many of whom will fondly remember the original Barney from their own childhoods, will love the show, too."
This reemergence of Barney comes after a Peacock docuseries, I Love You, You Hate Me, looked into the frequently vicious and overstated anger that was lobbed at the big purple dinosaur. The hatred some people had for the purple dinosaur was so over-the-top in retrospect that it's quite lovely to see him reemerge in such a loving way.