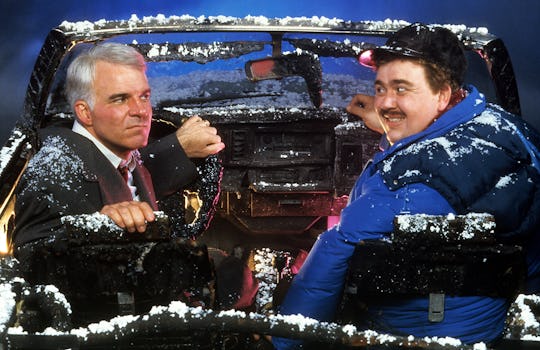 Paramount Pictures/Moviepix/Getty Images
10 Wholesome & Funny Thanksgiving Movies To Watch When You're Too Full To Move
Let's be honest: after a Thanksgiving meal, movies are the only thing you'll have energy for.
Have you ever noticed that there aren't too many Thanksgiving movies? It makes sense — wedged between heavy hitters Halloween and Christmas, Thanksgiving can get a bit lost in the shuffle. And while family dramas around the Thanksgiving table certainly makes for good entertainment (lighthearted or otherwise), Thanksgiving lacks the aesthetic flair of surrounding holidays. Still, it's a favorite of many, what with the family togetherness and loads of delicious food. And, honestly, it's the perfect day to power through movies. Who wants to do anything after a morning full of cooking (or travel) and an afternoon/evening full of gorging yourself?
So we've come up with 10 Thanksgiving movies you can enjoy, either with the whole family or on your own after the kids go to bed (perhaps with a second-wind leftovers sandwich — we won't judge). We've made sure to include ratings and a few friendly words of advice, parent-to-parent, to help guide your decision about what to watch.
From comedies to dramas, cartoons to classic to movies that aren't explicitly Thanksgiving-themed but have memorable holiday scenes or motifs, there may not be a ton of Thanksgiving movies, but there's plenty to digest while you digest! (Oh yeah: that joke just happened.)