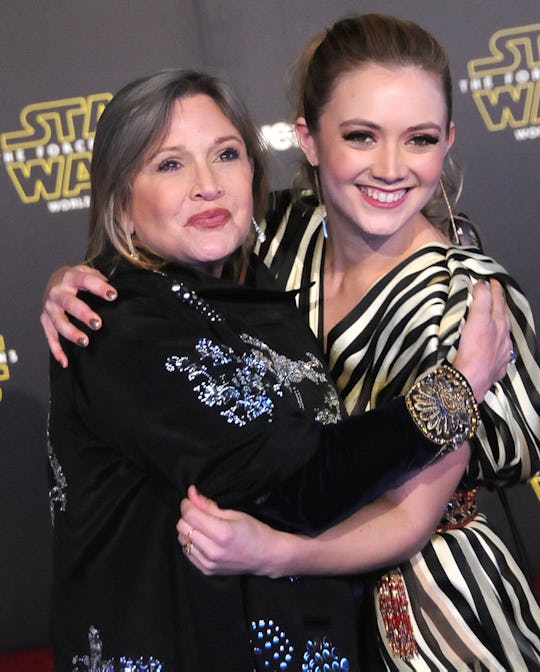 Barry King/WireImage/Getty Images
Billie Lourd Dressed Her Baby As Princess Leia In Sweet Tribute To Her Mom Carrie Fisher
On May the 4th, of course.
Celebrating the Star Wars universe on May the 4th — as in "may the force be with you," of course — has become de rigeur for fans. And Billie Lourd marked the day with a sweet Star Wars tribute to her mom Carrie Fisher featuring her baby boy Kingston dressed as the late actress' iconic Star Wars character Princess Leia.
Carrie Fisher died suddenly of a heart attack in 2016 at the age of 60 when Lourd was just 24 years old. The Scream Queens actress lost her mother, and days later lost her grandmother Debbie Reynolds as well. Years later, she became a mom herself when she welcomed her son Kingston Fisher Lourd Rydell, named for his grandmother, in September 2020 with fiancé Austen Rydell.
Now that little Kingston is seven months old, it seems he is ready to get a little Star Wars lesson from his mom as well as a lesson on just how important his own grandmother was to that universe. With that in mind, Lourd shared a post of Kingston having some belly time in front of a laptop. On his head he wore a knit brown hat in the trademark Princess Leia hairstyle of two buns coiled on the side of her head.
Princess Leia is smiling down at him from the screen. Smiling down at her grandson. "May the fourth be with you," Lourd captioned the post. Let's face it. Everyone is sobbing. As if that wasn't emotional enough, in a second photo from her post, Kingston is wearing a Princess Leia onesie.
Lourd's followers loved the sweet photos, including her Scream Queens co-star and fellow mom Emma Roberts who commented, "This is everything." Another follower wrote, "My heart is so full seeing this," while one social media user added, "Long live the Jedi princess and her entire family!"
The actress is about to celebrate her first Mother's Day as a mom herself, her fifth without her own mom. She wrote about her "complicated" Mother's Day last year. "This is my 4th Mother's Day without my Momby and days like today are never easy, but I've found that doing things that make me feel more connected to her make it a little easier," she wrote at the time, "watching her favorite movies, listening to music we listened to together, looking through old pictures and my personal favorite - eating + drinking things she loved."
This year she has her own little baby to join her in paying tribute to her mom. The force lives on.