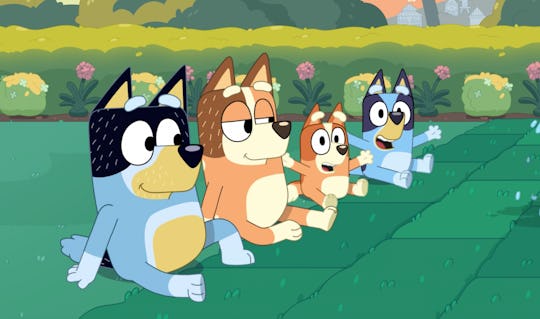 Disney+
A Super-Sized Bluey Episode Is Coming To Disney+ & We Have Some Theories About It
"The Sign" will premiere in 2024 and we can "definitely" expect to sob.
For months, international fans of Bluey have been wondering when non-Australian audiences would get new episodes of the beloved preschool series. While we still don't quite know when episodes that have already aired in Australia will be available on Disney+, BBC Studios Kids & Family have just announced a special 28-minute Bluey episode, "The Sign," will premiere globally next year on Disney+ and ABC (Australian Broadcasting Corporation). The super-sized runtime is equal to about four standard Bluey episodes. Wackadoo!
"There'll be lots of laughs, exciting guest voices, and definitely a few tears," Ludo, the studio that makes the show, said in a statement. "We're so incredibly proud of the awesome team behind the series and we can't wait for Australia and the world to watch this very special Bluey episode with their family and friends."
Of course, we're immediately thinking "Oh god, if the studio is warning us we're going to cry during a Bluey episode, which we already do most of the time anyway, this is going to be a humdinger of an emotional rollercoaster...."
"This extended episode allows room to explore the world, characters, and breadth of Bluey even further," Henrietta Hurford-Jones, commissioner and executive producer of Bluey for BBC Studios Kids & Family, added. "Existing fans will love it and it will be a great introduction to this incredible show for new audiences."
Right now, we don't know much about the episode. A teaser trailer, which doesn't really give a sense of plot, mostly contains scenes from prior episodes... except for this one, where Bluey appears sad. Why?! At this point, it's impossible to know for sure...
Another released image from the episode also teases at what's to come, and it gives us (maybe) some clues...
Bluey and her mum Chilli appear to be having a heart to heart at a rest station, which plays well with the other moment we see in which Bluey looks to be in need of comforting. Both the rest station and the city skyline in the fairly distant background indicated that the Heelers are traveling in this episode. The little feet visible in the stall appear to belong to Bluey's paternal cousin, Socks, so it looks like this might be an all family trip. Then, of course, there's the butterfly on the drinking fountain.
Can we talk about the butterfly on the drinking fountain? I'm dying to talk to you about the butterfly on the drinking fountain. Because this is a) not the first appearance of this butterfly and b) a butterfly series creator Joe Brumm has discussed before. The butterfly (or at least one that looks exactly like it) showed up in "Slide," a Season 3 episode that has not yet aired in the states. Brumm discussed the little guy, an Australian native called the Ulysses butterfly, in the Behind Bluey podcast.
Butterflies can symbolize a lot, including the soul and the life cycle. So will this very special episode be able birth and/or a death? We know from a discussion between Fido and Bandit in the episode "Perfect," which was not so subtly about getting neutered (though Disney changed it for American audiences), that Chilli "wanting to keep her options open" about having more kids. It's also been a while since Uncle Rad and Frisky got together. Maybe they're going to start a family? But then again, it's been a while since we've seen Bandit's dad, the mysterious Grandpa Bob. Might we finally find out what's been going on with him? After all, we were warned there would be tears.
Needless to say, we're pretty excited to see what's in store.