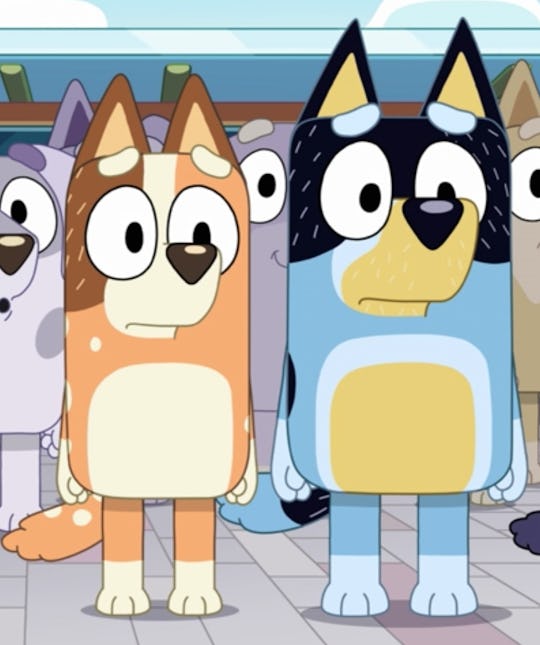 Disney+
Bluey Writers Are Taking A Well-Deserved Break After Season 3
"We are just going to get our heads on a bit."
Parents are going to need to really brace themselves for this one. After more than 150 episodes and three seasons, the writers of Bluey are taking a break. Now before you collapse onto your fainting couch with the smelling salts, it's just a break. A much-needed break for the writers who have brought us so much joy over the past few years.
Bluey producer Daley Pearson spoke to Australia's Courier Mail about the long days the writers of the show have been keeping over the past three seasons, explaining that all of that wonderful success has come at a price.
"We are just going to get our heads on a bit, it's been four or five years and we've made 154 episodes, it is kind of unprecedented to do that back-to-back," he told the news outlet, explaining that the rest is intended to help the show continue to thrive. "It was very intense. We are just coming to the end of season three and trying to think about what's the best way to make it better."
While yes, it seems impossible to imagine Bluey getting any better than it already is, we should all support the writers taking a break.
Just a break, Pearson was quick to reassure fans. The show is not coming to an end. "We have all secretly agreed with each other that we wouldn't keep making Bluey if it wasn't as good as the one that came before, so we want to make sure we keep doing that," he told the Courier Mail. "Part of it is just not pushing to come back. We are resting; the more we ask ourselves [when work will begin on season four], the longer it will be, which is why I hesitate talking about it too much."
In other words, please don't ask them too many questions about when they'll come back for the fourth season because they'll just take longer to bring us more Bluey, Bingo, Bandit, and Chili. After all, the show has given us gift after gift. Bandit as the world's best dad, so good that he ended up making real human dad Dale Earnhardt Jr. jealous by setting "unrealistic expectations" for his daughters. That hangover episode. Style icon and working mom Chili.
We are not ready to say goodbye just yet. So let the writers have their break and they'll hopefully come back sooner than later. You can still catch the first three seasons on Disney+, which you know you'll be watching on repeat.