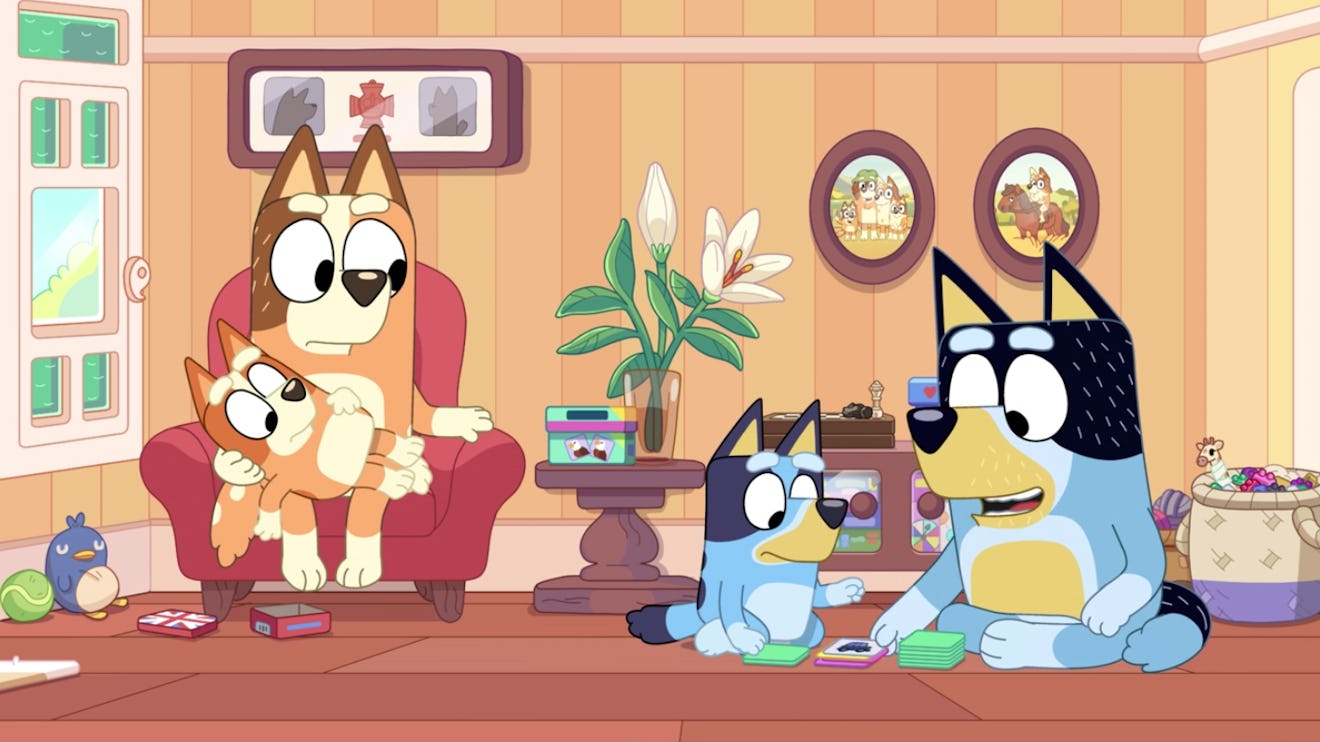 Disney+
This Quiz Will Confirm If You're Actually The Bluey Expert You Say You Are
Every now and then, a children's show comes along that does something special in a household: it provides true family entertainment, and we can't think of a better example than Bluey. It follows the daily adventures of Chilli (Mum), Bandit (Dad), Bingo (little sister), and Bluey, a 7-year- old Australian Cattle Dog, who all learn important lessons about growing up through games of make-believe that can be both silly and poignant. Of course if you're a fan, you already know that... but what else do you know? Perhaps you'd like to test your knowledge with our Bluey trivia quiz!
The Australian hit, which streams in the United States on Disney+, is intended for young audiences, but is written so honestly and authentically that it entertains children and adults alike. What parent hasn't felt a spiritual kinship with Chilli and Bandit in some way? Whomst among us hasn't quietly decided whether their child was a Bluey (my son) or Bingo (my daughter)? Can any parent truly say they haven't cried through at least one episode? (For me it's most of them, but especially "Sleepytime" ... and "Flat Pack"... and "Baby Race"... and "Camping"... OMG I almost forgot about "Rug Island" and "Grandad!")
We've assembled a few trivia questions about Bluey, and some are harder than others. Good luck!
What are Chilli and Bandit's jobs?
OK, we started with a tricky one. Let's try something a little easier!
What are Bluey's cousins' names?
We absolutely love when those two visit Bingo and Bluey at their house. Speaking of which...
Not gonna lie? We really want to visit because it looks absolutely gorgeous. And maybe while we're there we can pay a visit to the Grannies...
The Grannies go to show that not all games require toys, even though the Heeler sisters have a bunch of them.
Which of Bluey's toys can her parents not stand?
But while they may have a deep loathing of that particular toy, they're always down for a game of pretend with their children.
The Heelers play all sorts of games... but which one have they NOT played?
So how did you do?
0-2: Maybe you're only half paying attention while your kids watch; or perhaps you haven't been watching very long. Either way, it's OK! There's no wrong way to enjoy Bluey!
3-4: Getting better! Keep watching and you'll be an expert faster than you can say Sleepytime.
5-6: A true Bluey superfan who isn't ashamed to admit that you like it as much as your kids.