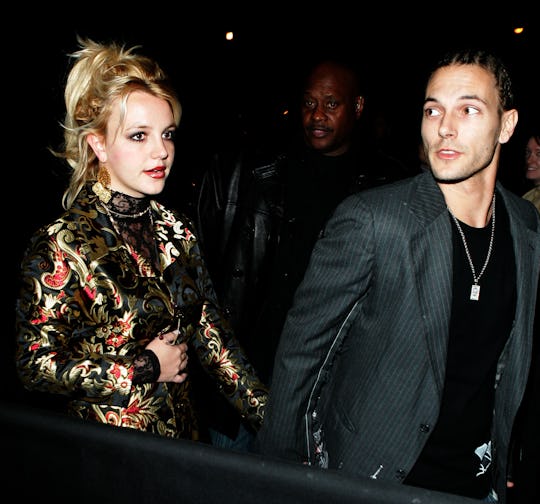 James Devaney/WireImage/Getty Images
Britney Spears Was "Terrified" Of Childbirth & Was "So Relieved" To Have A C-Section
"My mother had always talked about how painful childbirth was."
When Britney Spears was pregnant for the first time, she already had some pretty strong ideas about what giving birth would look like. Ideas that came directly from her mom Lynn Spears and left her feeling "terrified" of delivering her baby. In her new memoir The Woman In Me, the mom of two wrote about her pregnancies and admitted to feeling great relief when her doctor offered her a C-section.
Spears' new memoir The Woman In Me has offered some insight into the singer's private life. Her 13-year conservatorship, her romantic relationships, and her two pregnancies that brought her 18-year-old son Sean Preston and 17-year-old son Jayden, who currently live in Hawaii with their father Kevin Federline. She wrote about the two things she craved the most during her pregnancies: "I loved sex and I loved food. Both of those things were absolutely amazing throughout both of my pregnancies."
"Other than that, I can't say there was much that brought me any pleasure," she continued. "I was just so mean. You did not want to hear from me those whole two years. I did not want to be around almost anyone at all. I was hateful. I didn't want anyone, not even my mom to come near me. I was a real mama bear: America's sweetheart and the meanest woman alive."
Spears also recalls in her book that she remembers how her mother "had always talked about how painful childbirth was" for her. "She never let me forget that she'd been in many hours of agonizing labor with me. I mean, everybody's different. Some women have an easy time of it. I was terrified of giving birth naturally. When the doctor offered me a C-section, I was so relieved."
Spears gave birth to her first child, son Sean Preston in 2005, and her second child, son Jayden James, shortly after in 2006. She shares both of her children with Federline, whom she divorced in 2007.
While delivering a baby terrified her, Spears remembers being pregnant as a "spiritual" experience between her and her babies. "When I was pregnant, I wanted everyone to stay away. 'Stand back! There's a baby here!'" she wrote in The Woman In Me. "It's true what they say, when you have a baby no one can prepare you, it's a miracle. You're creating another body."
Spears went on to recall that once she had experienced becoming a mother herself, it was a powerful, overwhelming moment in her life. "It was such a spiritual experience, such an incredibly powerful bond."