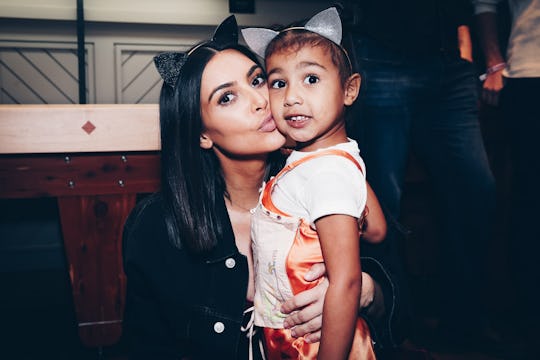 Handout/Getty Images Entertainment/Getty Images
Kim Kardashian & More Celebs Who Got Really Creative With Their Kids' Elf On The Shelf
Haven't we all needed a little magic dust to help our sick elf?
The tradition of bring an Elf on the Shelf into your home has become a real thing for lots of parents. Not all parents, mind you. But certainly these celebrity parents are pretty happy to share their own Elf on the Shelf experiences. Sure, it's an added little job at a stressful time of year. But it also gives parents the chance to get creative. Something these celebrities clearly reveled in themselves.
The whole Elf on the Shelf tradition started back in 2005, when Carol Aebersold and her daughter Chandra Bell decided to write a book about their own longstanding holiday tradition. It seems their family always had an elf hiding in different areas of their home, and this elf is meant to watch over kids throughout the holiday season and report their findings back to Santa Claus himself. The book Elf on the Shelf took off, the story grew, and now it's pretty much part of holiday lore for parents to come up with fun ways to move their own elf around the house so kids can find them. Which begs the question; is this about the kids or the parents?
When it comes to these celebrities and their Elf on the Shelf Instagram posts, you can decide for yourself.