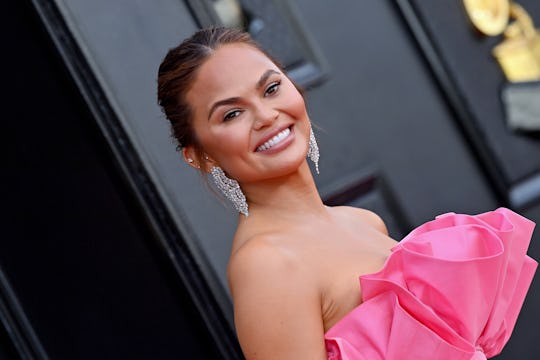 Axelle/Bauer-Griffin/FilmMagic/Getty Images
Moms Are Loving Chrissy Teigen's Instagram Post About Missing The Grammys This Year
Her night looked way better, TBH.
Chrissy Teigen has a solid history of being a success at awards shows. As a celebrity, former model, and wife of EGOT John Legend, she has had ample opportunity to dress up and rub elbows with all of the rich and famous people of Los Angeles. Something she seems to have enjoyed doing over the years, just not this year. Teigen did not join her husband at the 2023 Grammys because she simply "cannot get up" from under her sleeping baby girl. And it's kind of an introvert's dream excuse to be honest.
The Cravings cookbook author welcomed daughter Esti Maxine just weeks ago. As the entire family, including 7-year-old daughter Luna and 4-year-old son Miles, gets accustomed to their new normal with a baby in the house, it seems Teigen is pretty content to just stay home with her sweet little girl. Especially when the other option is to spend ages going full glam and hitting the red carpet at the Grammys.
On Sunday, Teigen shared a photo of herself looking content and relaxed with Esti sleeping on her chest on Instagram with the caption, "happy grammy day!! had a dress fitting, looked around and realized ….what the hell am I trying to prove here. I cannot get up lol."
Teigen's followers totally backed her decision to hang out with Esti at home. "You have the best seat in the house!" one fan wrote. "You're right where you need to be! There will be other award shows and other fittings but this moment will never happen again. Embrace the moment," another said. "You're holding the best award," one more chimed in, while another commented, "Smart woman. Listen to your body and doing what you need to do."
Her husband supported her decision to sit this year's Grammys out as well. "Just sitting there fine AF," he wrote on her post, perhaps excited to come home himself to hang out with their new baby and bask in all of the joy she has brought with her.
Certainly when Teigen shared her first photo of her three children last month, she made it known that their house was full of happiness. "She's here! Esti Maxine Stephens - the house is bustling and our family could not be happier," she wrote at the time. "Daddy sheds nightly tears of joy seeing Luna and Miles so full of love, and I am learning you still need diapers with a c section!? We are in bliss. Thank you for all the love and well wishes - we feel it all! X"
The Grammys really can't beat that now, can they?