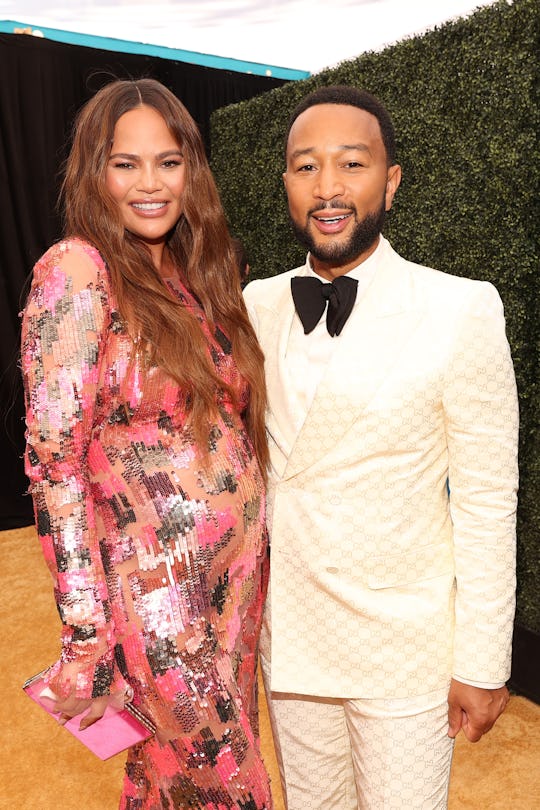 Christopher Polk/NBC/NBCUniversal/Getty Images
Chrissy Teigen Revealed Her New Baby Girl's Unique Name With A Precious Family Photo
"The house is bustling and our family could not be happier."
Chrissy Teigen and John Legend are living in a house full of happiness these days. Their new baby has arrived, and judging from the joyful photo Teigen shared of 7-year-old daughter Luna and 4-year-old Miles cuddling their little sibling — a baby girl! — everyone is super excited. And just like her older brother and sister, Teigen and Legend's newborn has a beautiful name.
Teigen and Legend officially let the world know that their new baby had arrived on Thursday, but the proud dad couldn't help spilling the beans at a private concert last Friday, telling the crowd that they had welcomed "a little baby this morning." He admitted that he "didn't get a lot of sleep" to concertgoers, but didn't share any more information about the new baby. Legend's rep later confirmed the baby's birth to The Hollywood Reporter, but since then the couple have kept to themselves. Now they're ready to let the world know.
In a beautiful Instagram post featuring all three of their children cuddled up together, Teigen introduced their baby girl. And shared her lovely name, Esti Maxine Stephens.
"She's here! Esti Maxine Stephens - the house is bustling and our family could not be happier," Teigen wrote on Thursday. "Daddy sheds nightly tears of joy seeing Luna and Miles so full of love, and I am learning you still need diapers with a c section!? We are in bliss. Thank you for all the love and well wishes - we feel it all! X"
It should come as no surprise that both Luna and Miles are excited to welcome baby Esti; Teigen did tell Romper in November that she gets gossip from her kids' teachers about what her kids were saying about the baby, after all. And of course, after the heartbreak the entire family suffered when Teigen experienced a pregnancy loss in 2020 with her son Jack, Esti's arrival is perhaps even that little bit more emotional for everyone.
Miles and Luna aren't the only ones feeling emotional about the new baby. "So happy for you all. Congratulations, my heart is exploding for you!!!!" wrote one social media follower. While fellow mom Brooklyn Decker wrote that her "heart is melting."
The name Esti is a unique one, originally derived from older names like Esther and Estelle, the name means "star." We have no doubt Esti will live up to her name.