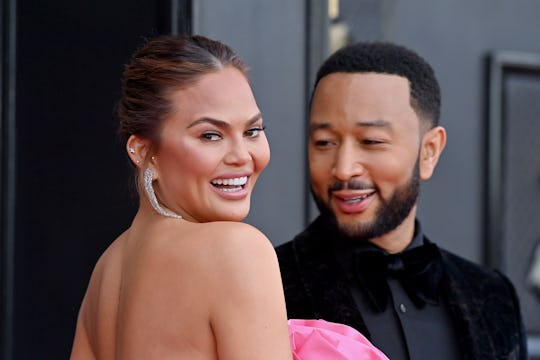 Axelle/Bauer-Griffin/FilmMagic/Getty Images
Chrissy Teigen & John Legend Have Welcomed Their New Baby
Luna and Miles have a little sibling!
Chrissy Teigen and John Legend now have three little ones in their lives. The Cravings cookbook author has given birth to the couple's new baby, making 7-year-old daughter Luna and 4-year-old son Miles an older sister and brother.
Teigen herself appears to be pretty busy with new baby duty, leaving the big announcement that their little one had arrived to husband John Legend. The Grammy award-winning singer told fans at a private concert on Friday that the couple had welcomed their new baby.
"What a blessed day," he told the crowd after they welcomed "the little baby this morning," according to People. He did not share details about the new baby's sex or offer a name, but added that he "didn't get a lot of sleep" but still "feels energized" by being with his wife at the hospital for the birth of their baby. Legend's rep later confirmed the birth announcement to The Hollywood Reporter.
While neither Legend nor Teigen have shared any photos or updates about their new baby on Instagram at this point, it's early days for the expanding family. A busy time when everyone in the house has to adjust to the shifting dynamic, although that doesn't seem like a massive concern for Luna and Miles. "We're all excited," Legend told People in March, "and, you know, my kids are old enough to really be aware of what's happening, so they're really anticipating having a new sibling in their lives. And I think they'll be good at being a big sister and big brother."
Now is the time the family will find out for sure.
This baby's birth comes after Teigen and Legend suffered a pregnancy loss in September 2020 with their son Jack, an event that left both of them devastated. And initially hesitant about sharing this new pregnancy with the world, which they finally did last August with an Instagram post. "1 billion shots later (in the leg lately, as u can see!) we have another on the way," Teigen wrote at the time. "Every appointment I've said to myself, 'ok if it's healthy today I'll announce' but then I breathe a sigh of relief to hear a heartbeat and decide I'm just too nervous still. I don't think I'll ever walk out of an appointment with more excitement than nerves but so far, everything is perfect and beautiful and I'm feeling hopeful and amazing."
Hopefully the whole family is feeling extra amazing, now that they've welcomed their newest member.