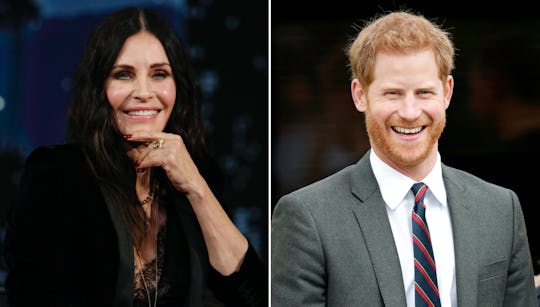 Randy Holmes/Getty Images/ Max Mumby/Getty Images
Courteney Cox Just Responded To Prince Harry's Story About Doing Mushrooms At Her House
"I definitely wasn't passing them out!"
Prince Harry's memoir Spare was chock full of incredibly private stories about incredibly public people. Mostly the royal family, of course, but there was a smattering of stories in there about some high-profile celebrities as well. Like when the Duke of Sussex claimed he did magic mushrooms at a party at Courteney Cox's house, for instance. Prince Harry alleged that he stayed at Cox's home during a visit to Los Angeles and took some magic mushrooms, and Cox herself has something to say about that particular story.
In Spare, the Duke of Sussex specifically wrote about staying at Cox's house for several days, which was apparently a big deal for him because he was a "Friends fanatic, the idea of crashing at Monica's house was highly appealing," he wrote in his memoir, noting he became a fan when he found himself staying home more due to social anxiety. "Day after day, night after night, I sat around eating takeaway, watching 24. Or Friends. I think I might've watched every episode of Friends in 2013. I decided I was a Chandler," Prince Harry, wrote per People.
When he finally got to stay at Cox's house, he claims he found a box of "black diamond mushroom chocolates" in her fridge while looking for a soft drink and decided to partake. The mushrooms left him hallucinating in the actress' bathroom, according to the dad of two.
Courteney Cox responded to Prince Harry's mushroom story.Kevin Winter/Getty Images Entertainment/Getty Images
Courteney Cox responded to Prince Harry's mushroom story.Max Mumby/Indigo/Getty Images Entertainment/Getty Images
In an interview with Variety, Cox responded to Prince Harry's claims. "He did stay here for a couple of days — probably two or three. He's a really nice person," she told the outlet. The Shining Vale star went on to admit that she hadn't "read the book" but would like to at some point. "I do want to hear it, because I've heard it's really entertaining."
As far as the mushroom story goes, she's heard all about it. And has some thoughts on his recollections. "It's gotten back to me about it. I'm not saying there were mushrooms! I definitely wasn't passing them out." So she's not saying there were mushrooms. But she's not saying there were not mushrooms either.
Prince Harry's magic mushroom story is just one of several stories about using drugs in Spare. He also opened up about using wife Meghan Markle's laughing gas and eating Nando's chicken while she gave birth to their son Archie. Unlike Cox, Meghan Markle hasn't really responded to that story publicly. But I bet she responded at the time.