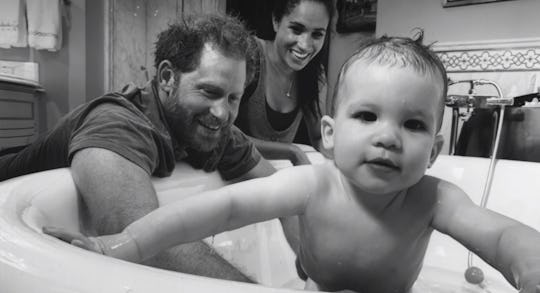 Netflix
Prince Harry Used Laughing Gas & Ate Chicken As Meghan Markle Was In Labor With Archie
"Gracious, the husband's had it all. 'Sorry,' I said meekly.'"
When Meghan Markle gave birth to 3-year-old son Archie back in May 2019 at London's Portland Hospital, her husband Prince Harry really wanted to make sure he stayed calm. I mean, really focused on his own level of calm. So much so that he used laughing gas and had bodyguards go get him some Nando's chicken so he could feel chilled out and relaxed while his son was coming into the world.
Prince Harry wrote about the experience of becoming a dad for the first time in his upcoming memoir Spare, which will be available on Jan. 10, and an excerpt shared by the Daily Mail really paints a picture. According to the outlet, Prince Harry wrote about Meghan's labor experience where she "bounced on a giant purple ball" before climbing into a bath and listening to "soulful hymns." For his part, Prince Harry wrote about lighting the room with electric candles and putting a photo of his late mother Princess Diana on a table in the delivery room to watch over the proceedings. The dad of two described his wife as "calm," and don't worry, he was calm too.
"But I saw two ways of enhancing my calm. One: Nando's chicken (brought by our bodyguards). Two: A canister of laughing gas beside Meg's bed. I took several slow, penetrating hits," Prince Harry reportedly writes in Spare, adding, "Meg, bouncing on a giant purple ball, a proven way of giving Nature a push, laughed and rolled her eyes. I took several more hits and now I was bouncing too."
Unfortunately Prince Harry used up all of the nitrous oxide (commonly called "laughing gas") that was meant for his laboring wife. "I could see the thought slowly dawning. Gracious, the husband's had it all. 'Sorry,' I said meekly.'"
Nitrous oxide is sometimes used during labor to help dull pain and anxiety for expectant moms, according to the Mayo Clinic. Less so expectant dads.
The Duke of Sussex also opened up about daughter Lilibet's birth in California two years later, according to the Daily Mail, admitting he didn't actually tap into the laughing gas because "there wasn't any."
Excerpts like these from Prince Harry's new memoir, which was leaked earlier than the launch, are already giving royal fans previously unseen access to the lives of the royals. Like finding out the youngest son of the King of England got high and snacked on takeout during his wife's birth. Who could ever have imagined?