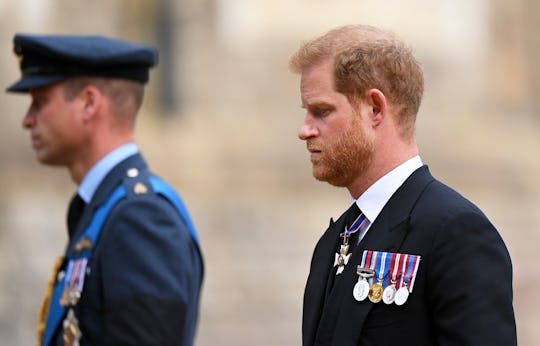 Justin Setterfield/Getty Images Entertainment/Getty Images
Prince Harry Alleges Prince William Attacked Him During Argument Over Meghan Markle
The Duke of Sussex also referred to the Prince of Wales as "my beloved brother and my archnemesis."
Prince Harry's memoir Spare won't be released until next week, but a fairly shocking tidbit from the new book has been making waves already. According to an exclusive excerpt shared by The Guardian, Prince Harry alleged that his older brother Prince William physically attacked him during an argument involving his wife Meghan Markle.
After years of staying silent on the subject of his family, the Duke of Sussex has truly done an about face in the past few years. Between doing in-depth interviews, his new Netflix docuseries Harry & Meghan, and his memoir, the father of two has opened up the floodgates once and for all. And it seems Spare, which has been billed by Random House as a "landmark publication full of insight, revelation, self-examination, and hard-won wisdom about the eternal power of love over grief," is set to be the most revelatory yet, based on the excerpt shared by The Guardian.
In the book, according to The Guardian, Prince Harry details a particularly upsetting fight he had with Prince William in 2019 over his wife, who Prince William reportedly referred to as "difficult," "rude," and "abrasive," resulting in a physical altercation between the two.
According to the excerpt from Spare, which hits shelves on Jan. 10, Prince William visited Prince Harry at Nottingham Cottage, his home on the grounds of Kensington Palace, in 2019 to discuss their relationship and in particular Meghan Markle. Prince Harry wrote that his brother was visibly upset, so he got him a glass of water in the kitchen. Where things allegedly escalated.
"He set down the water, called me another name, then came at me," Prince Harry reportedly wrote. "It all happened so fast. So very fast. He grabbed me by the collar, ripping my necklace, and he knocked me to the floor. I landed on the dog's bowl, which cracked under my back, the pieces cutting into me. I lay there for a moment, dazed, then got to my feet and told him to get out." Prince William reportedly apologized.
Romper has reached out to representatives for the Duke and Duchess of Sussex as well as Kensington Palace for comment on the excerpt.
In a recent interview with Good Morning America, which is set to air on Monday, Prince Harry opened up again about his relationship with his brother, who he referred to in Spare as "my beloved brother, and archnemesis," a complicated situation that was exacerbated by their roles as the heir and the spare. Which, of course, explains the title of his memoir. And perhaps so much about their roles as brothers.
While the royal family has yet to comment on any of Prince Harry's comments, the Duke of Sussex has made it clear that he wants to keep the communication gates open. In the months leading up to his father King Charles's coronation on May 6, Prince Harry was asked by Tom Bradby in an ITV interview about whether or not he would attend. "There's a lot that can happen between now and then," he responded. "But, you know, the door is always open. The ball is in their court. There's a lot to be discussed and I really hope that they are willing to sit down and talk about it."