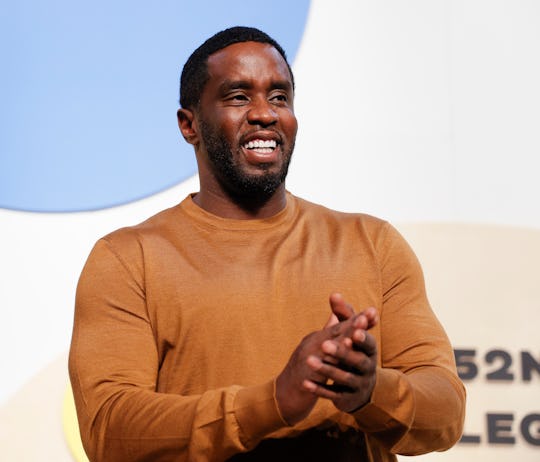 Jemal Countess/Getty Images Entertainment/Getty Images
Diddy's 11-Month-Old Daughter Found The "Perfect Food" For Teething & It Has A Bone
There are a whole host of little insider tricks parents of teething babies have used over the years to try to soothe their little ones' gums. From chewing on a wet facecloth to a cold spoon to teething necklaces, bracelets, and even anklets, it seemed like we had all of our bases covered. But apparently no one had lamb chop on their teething Bingo card other than Sean "Diddy" Combs and his partner Dana Tran. Their 11-month-old daughter Love can't get enough of gnawing on a lamb chop, and her mom makes an excellent case for why this remedy is actually kind of genius. Plus how cute is Love's face when she discovers that deep delicious lamb chop flavor?
Love's mom, cybersecurity specialist Dana Tran, took to the little girl's Instagram page to share an adorable reel of her baby girl snacking on a lamb chop. "Here Love is eating a lamb chop for the first time at 7 months," she says as her little girl is recorded eating baby's first lamb chop. "She had one tooth so this was the perfect teether toy."
A real love affair between Love and those lamb chops began in that moment, as she shared her daughter eating the same thing now and explained that at "11 months and eight teeth and she loves lamb chops!"
Tran, who tagged Diddy in the post, captioned the video, "Yummy Lamb chops loaded with immune-boosting zinc, protein, & a bunch of quality nutrients! A perfect food for teething baby!"
The decidedly unorthodox teething food wasn't just a big hit with Love, the youngest of Diddy's seven children, it was also a big hit with her Instagram followers. "One thing about Baby Love! She gone eat and I'm not mad at her," wrote one social media user while another added, "One thing this baby going to do is eat nobody stands between her and her food."
While little Love certainly enjoys a lamb chop break every now and then, she also has been known to use a regular teething ring in the past. Like when she was hanging out with her dad during a studio break as he recorded The Love Album: Off The Grid earlier this month.
Maybe Love's generous dad will get her a whole box of lamb chops for her first birthday. He did get 17-year-old twin sisters Jessie and D'Lila Range Rovers for their 16th birthday, after all. A box of lamb chops for his teething baby girl seems only fair.