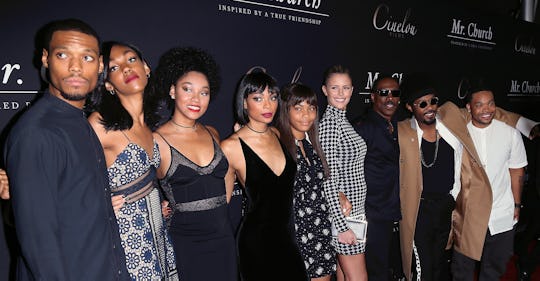 David Livingston/Getty Images Entertainment/Getty Images
Eddie Murphy Is A Proud Father Of 10
"If you put your children first you never make a bad decision."
Eddie Murphy is a certified living legend. As an actor, comedian, and producer, the icon has built a legendary career that spans over three decades. Within that time he has also built quite the personal one as a father of 10. Murphy has six daughters and four sons — not quite as many as Nick Cannon, but needless to say, the famed Murphy name will not be disappearing any time soon.
Eddie Murphy loves being a dad and puts his children "first."
"I love fatherhood," the Coming to America 2 star, 60, shared on Marc Maron's WTF podcast in a March 2021 interview. "The whole idea of being out there and doing three movies a year, that sh*t is over ... I found over and over again and along the way I realized that if you put your children first you never make a bad decision. My kids are smart and are trying to do stuff. I am blessed with my kids. I really, really got lucky."
So who are Murphy's kids? From oldest to youngest, here's everything you need to know about actor's big and talented family.
Eric Murphy
Eric Murphy is the actor's oldest child. Murphy welcomed his son with then-girlfriend Paulette McNeely on July 10, 1989. The 33-year-old is fairly private and out of the spotlight, but Eric is currently dating Martin Lawrence's daughter, Jasmin. The two went public with their relationship last June. Lawrence reportedly approves of their kids' relationship but he has one stipulation from his Life co-star if the two ever decide to tie the knot. "I'm gonna try to get Eddie to pay for it," Lawrence told Jimmy Kimmel back in June 2022.
Bria Murphy Xavier
Bria Murphy Xavier is Murphy's second child and first daughter, born on Nov. 18, 1989. He shares her with his ex-wife Nicole Mitchell. Like her parents, Bria is an actress; her credits include 2017's drama Conflict of Interest, 2016's The Perfect Match, and 2014's Hollywood Exes, alongside her mother.
This past July, Bria tied the knot with actor Michael Xavier and her dad was there to whisk her across the dance floor to Stevie Wonder's "Isn't She Lovely."
Murphy-Xavier is also an artist and co-founder of the Los Angeles art gallery, ArtUs Gallery. "I'm glad that people get to see how talented she is," Murphy said about his daughter, according to to People. "We've known for years how talented she is. It's exciting to see her stuff up on the walls… I'm having all of those proud parent feelings."
Christian Murphy
Christian Murphy is Eddie's oldest son, born on Nov. 29, 1990, with ex-girlfriend Tamara Hood. Like his older sister, Christian has a few acting credits such as 2018's Cultureshock and 2017's It's How You Got There and The Wrong Bed: Naked Pursuit.
Myles Mitchell Murphy
Myles Murphy is Eddie's fourth child born on Nov. 7, 1992, with his ex-wife, Nicole. Like his brothers, Christian and Eric, Miles keeps his personal life private and does not have an Instagram account. But he is both a husband — he's married to Carly Fink — and father to a daughter named Evie. He's also responsible for making his dad a grandfather for the first time.
Shayne Audra Murphy
Shayne is Murphy's fifth child, born on Oct. 10, 1994, and second daughter with ex-wife Nicole. She's very active on social media, frequently posting pictures of her travels. Shayne also runs a food blog on Instagram called Shayne's Kitchen, which suggests she's quite the foodie as well!
Zola Ivy Murphy
Zola Ivy Murphy is sixth in line, born on Dec. 24, 1999, with his ex-wife Nicole. On her Instagram, the free-spirited Murphy daughter describes herself as a writer and a hopeless romantic.
Bella Murphy
Bella is Murphy's seventh child and final one with his ex-wife, Nicole, born on Jan. 29, 2002. The two divorced the following year after her birth due to "irreconcilable differences."
Like her father, the 20-year-old has taken the acting route. Her upcoming roles include a project called Fairyland, slated to be released sometime in 2023. But she is best known for her role alongside her father in Coming To America 2. She played Omma one of King Akeem's daughters. And like any other actress, she had to audition for the role. "She had to audition for Craig Brewer, who directed the movie," Murphy, who played King Akeem, told Good Morning America. "I wasn't muscling my kid into the movie. She had to really be able to deliver. Otherwise, she wouldn't have gotten the role."
Bella's first acting gig also broke a family rule her father has, which is his children cannot work in the entertainment industry until they become legal adults. Bella, however, was 17 when she got the role in Coming To America 2. "I think he just saw that, and saw how passionate I was about it, and was like, 'I think I'm just going to let you audition for the princess if you want," she told Yahoo. "He gave that option to me. Which of course I took, because I wanted to do it. So I did the audition, and I practiced with him, and it was awesome."
Angel Iris Murphy Brown
Angel Iris Murphy Brown, born on April 3, 2007, is Murphy's eighth child who he shares with his ex, Melanie Brown, also known as Mel B from the Spice Girls. In 2018, Angel went with her dad and siblings to Hawaii. "They all have a very good relationship," a source told People. "He always makes sure to get them involved with Angel. She had something at her school recently and a number of her siblings turned out to support her. She texts Eddie and is on the phone with him all the time. She loves her dad."
Izzy Oona Murphy
Izzy Oona Murphy is Murphy's ninth child, born on May 3, 2016, with his fiancée Paige Butcher. Not much is known about the now 6-year-old since her parents keep her out of public life. But according to People, Butcher's pastimes with her daughter include the park and play dates.
Max Charles Murphy
Max Charles Murphy is the tenth in line, born on Nov. 30, 2018, and the second child he shares with Butcher. The toddler was named after Murphy's late brother, Charlie Murphy, who passed away due to complications related to leukemia in 2017.
In a 2019 interview on The Ellen DeGeneres Show, Murphy spoke about life as a father and what people think about him having so many kids. "Men kind of look at me like, 'He's crazy. How much did that sh*t cost?' And women, it's kind of like, something sexy about it I think," Murphy said. "They're like, 'Eddie Murphy must be doing this thing. Eddie Murphy be getting it in.'"