"HERE COME THE GRANNIES!"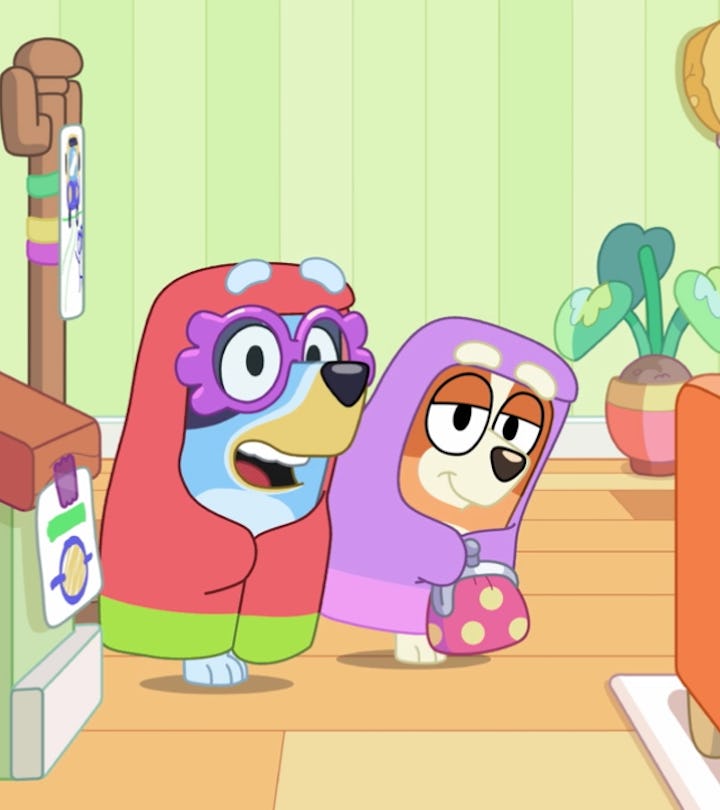 Disney+
Everything You Need To Know About "The Grannies" On Bluey
These little old ladies are some of our favorite characters.
Over the course of the beloved Australian cartoon Bluey, we meet plenty of grandmothers, and not just family matriarchs. The series is all about the power of imaginative play, and one of the Heeler sisters' favorite games features imaginary, hilarious grandmother characters. "The Grannies" became fan favorites, prompting memes, merch, and a whole lot of laughter for fans of all ages. But if you're late to the game (hey, we get it: kids take up a lot of time) here's everything you need to know about the grannies on Bluey.
Bandit's mom is Chris Heeler, aka Nana.
Chris Heeler is Bluey and Bingo's paternal grandmother and is also the grandmother of their cousins, Muffin and Socks. She's living the retired life in Gold Coast, Queensland (near Brisbane, where the series is set). Her apartment even has a beautiful view of the ocean.
Chris is a kindly grandmother. A little hard of hearing, she always wants to be helpful a positive. She even learns how to "do the floss" via FaceTime to make her granddaughters happy. She adores her grandchildren and is patient and attentive with all of them. She is also Bluey's namesake, inspiring the titular character's middle name, Christine.
Another fun fact, according to the Bluey wiki site she is named after the mother of series creator Dan Brumm (who also provides the voice for Uncle Stripe). Chris Brumm even voices Nana Chris on the show!
Chilli's mom is "Mrs. Cattle."
Bingo and Bluey's other grandmother has never been seen in person on the series, though we do see her picture hanging on a wall in their home. Other than her general appearance (she, like her daughter, is a Red Heeler) and the fact that she could ride a horse, however, we don't really know anything about her including whether or not she's alive or what her name is. But given that Chilli has an older sister named "Brandy Cattle" who appears in Season 3 (in an episode not yet released in the U.S.), it's likely that her last name is "Cattle." We hope we'll get to learn more about "Mrs. Cattle" as the series progresses.
But, of course, when we hear "grannies" in the context of Bluey, chances are people are referring to two recurring "characters" that the sisters (and most recently their cousin) have adopted as alter-egos.
"Rita"
When Bingo and Bluey play "grannies," Bingo is Rita, a slow moving, hard of hearing, somewhat laissez-faire granny. Rita has appeared in every season of the series, including "Grannies" (Season 1); "Bus" (Season 2); and "Granny Mobile" (Season 3; this episode has not yet aired in the U.S.). Rita is known for "shoplifting" baked beans (pictured), which might explain why she's often gassy, and enjoying a game of mah jong.
She is a terrible driver — crashing a ride-along car and throwing passengers of an imaginary bus into mortal peril when she casually decided to take the wheel. She also has a pet snake named Bupsy, who appears at the most inopportune moments.
"Janet"
Bluey, aka Janet, has also appeared alongside Rita in every season of the series. She is a chatty granny and is more likely to interact with adults than Rita, often attempting to assuage their worries or fears. She's feisty but kind and wears large, dramatic glasses. Janet enjoys frequent, impromptu naps (even if those around her don't) and playing matchmaker, as she does with the "Bus Driver" (Bandit) and the "Passenger" (Chilli).
While Janet is generally quite friendly, she holds the "big blue baboon" (aka Bandit) in disdain. She's also always willing to cover for the charming misdeeds of Rita — when the latter is caught "shoplifting" by Chilli, shouting with glee "Run Rita!"
"Gladys"
This episode, "Granny Mobile," hasn't aired yet in the U.S., but if you are a Bluey superfan... erm, I mean if your kids are superfans *nervous laughter* you can find it if you know where to look. Gladys is the granny alter-ego of Muffin. Now Muffin on her own is pure, perfect chaos, but when she decides to play the role of a "grouchy granny" she's even more perfect.
Like Janet, Gladys seems to have a particular disdain of Bandit (whom she calls "Bugalugs"), but her misanthropy appears to extend to everyone. Gladys' favorite hobbies are bossing people around, wacking people with her purse, and haggling. She's an absolute pro at all three.
So there you have it: the Grannies on Bluey. We can't wait to see what else these "old ladies" will get up to in Season 4!