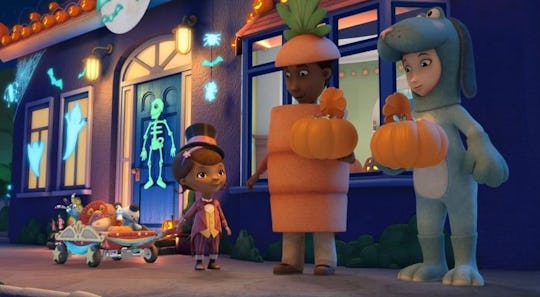 Disney+
20 Halloween Episodes From TV Shows Your Kid Already Loves
Plus where to watch them all!
Halloween is right around the corner and there are plenty of spooky, fun episodes and specials to be watched! Whether you're looking to enjoy a family-friendly fright fest or if your little one just likes celebrating ghouls and goblins all year long, we have a list of not-so-scary Halloween episodes from a few popular kids' shows like Sesame Street, Nailed It!, Dino Ranch, and more.
These episodes have just enough chills and giggles to keep kids sleeping throughout the night with the lights off, and — bonus! — in their own rooms. In other words, you won't find anything nightmarish from the episodes featured on this list. But what you will find is a family reunion of vampires, a pet who can morph into a skeleton or pumpkin, a teen superhero who has to battle a grumpy ghost to save her family, and our favorite Disney characters dressed like a few of our favorite Toy Story ones.
When a movie is just too long to watch, here are 20 kid-friendly Halloween episodes you can watch with the lights on — and a bowl of candy corn, of course.
Happy watching!
This article was originally published on