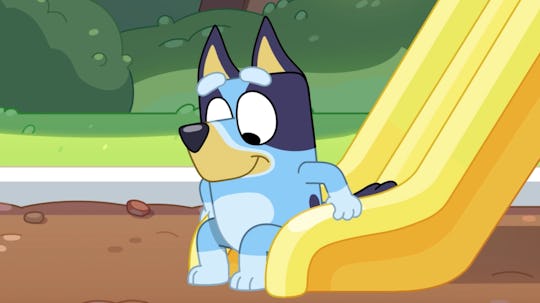 Disney+
Here's How To Watch Bluey If You Don't Have Disney+
Ten episodes will make their television debut in November 2023.
It's been four years since American audiences were first treated to Bluey, the charming Australian series about the importance of play. Bluey is the #1 series watched by preschoolers, says Nielsen Media Research Data, and we're willing to bet it's in a top spot for parents, too, who seem to adore the Heeler family as much as their kids. But while some folks can't seem to escape the adorable heeler pup (not that they want to), others may be wondering how to watch Bluey without Disney+. Good news: you have a lot of options.
You can watch Bluey on DisneyNow.
This is a free service for customers of participating TV providers. But even if your provider doesn't offer DinseyNow, you can still watch some full episodes and clips online.
Or, you can watch Bluey on cable TV.
You have two options here, including...
Disney Junior: This cable channel shows Bluey several times a day, every day. You can watch Bluey on Disney Junior on these days and times...
Monday - Sunday: 3 a.m., 3:30 a.m., 11:15 p.m., 11:40 p.m.
Monday - Friday: 6 a.m., 6:30 a.m., 10:30 a.m., 4:30 p.m., 5:30 p.m.
Saturday & Sunday: 8:30 a.m., 9 a.m.
Monday - Thursday, Saturday & Sunday: 11:30 a.m., 7:55 p.m., 8:20 p.m.
Monday - Friday, Sunday: 12 p.m., 1:50 p.m.
Disney Channel: The OG source of all televised Disney properties! You can catch Bluey on the Disney Channel...
Monday – Thursday: 7 a.m., 7:30 a.m., 8 a.m., 9:30 a.m., 10 a.m., 11 a.m., 11:30 a.m.
Friday: 5 a.m., 5:30 a.m., 7 a.m., 7:30 a.m., 8 a.m., 10 a.m., 11 a.m., 11:30 a.m.
Saturday: 5 a.m., 5:30 a.m., 6 a.m., 6:30 a.m.
Sunday: 6:30 a.m., 7 a.m.
"New" episodes of Bluey are coming soon to the Disney Channel and Disney Junior.
Families who plan to watch "the old fashioned way" (aka on a television network like Disney Channel or Disney Junior) are in luck: 10 episodes of Bluey will make their network premiere on Disney Junior and Disney Channel, with one new episode premiering each weekday from Monday, Nov. 6 to Friday, Nov. 17. Though each episode will be played multiple times throughout each day, the first chance to watch will be at 7:30 a.m. on each of those dates.
These episodes, which are currently available on Disney+, are...
"Musical Statues"
"Stories"
"Puppets"
"Tradies"
"Space"
"Dirt"
"The Decider"
Disney+ has all the Bluey you could ask for... almost...
Seasons 1 and 2 of Bluey are are streaming now on Disney+ in their entirety, as well as most of Season 3 (37 episodes total — 47 have been released so far in Australia with three more coming soon). Additional episodes from Season 3 will debut on Disney+, Disney Junior, and Disney Channel in 2024.