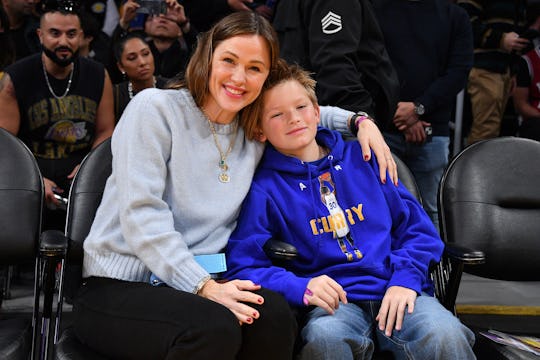 Allen Berezovsky/Getty Images Sport/Getty Images
Jennifer Garner Took Her Son Samuel To A Lakers Game & Their Courtside Photos Are So Cute
These two clearly had a blast.
Jennifer Garner is a mom of three who seems to really like getting one on one time with each of her kids when she gets the chance. Like on Monday, when she took her 10-year-old son Samuel with her to an NBA game. The mom and son looked pretty happy and relaxed, sitting courtside and watching the Los Angeles Lakers play against the Golden State Warriors. He even spiked his little hair for the occasion.
The 13 Going On 30 star enjoyed a rare solo outing with Samuel, who she shares with ex-husband Ben Affleck along with 14-year-old Seraphina and 17-year-old Violet. She tends to keep her kids out of the public eye as much as possible, but apparently catching an NBA game courtside sounded like too much fun to pass up. Especially since it looks like Samuel is a Golden State Warriors fan, according to his sweatshirt and even the t-shirt he wore underneath, both featuring the Golden State Warriors logo.
While Garner did not, in fact, dress to match her son, they certainly looked like a match set on account of their matching faces. Samuel looks so much like his mom that it's actually quite astonishing. Especially with the two of them beaming courtside as they were.
The mom of three was decidedly much fancier the last time she brought one of her children out for a public event. She brought oldest daughter Violet to a glamorous White House dinner with her for Violet's 17th birthday, and again they looked like twins. Garner must have some seriously strong genes.
This recent outing with Samuel marks his first very public day out with his mom, but the two of them have been known to camp out in the backyard on their own in the past. In fact, Garner documented a long night of backyard camping with Samuel in the backyard as part of a "Yes Day" pact in 2017, and he must have appreciated it because in 2020 he wrote her a check for being his "mama" for exactly $168.42.
Samuel seems to be getting more and more into basketball now that he's a big kid. His dad Ben Affleck took him to the NBA All-Star Weekend in Salt Lake City, Utah earlier this year, where Samuel got to help his dad introduce the teams and even met NBA legend Shaquille O'Neal. And in December, Affleck took him to another Lakers game, so I'm sensing a theme here. Three guesses as to what Samuel's Yes Day request might look like this year.