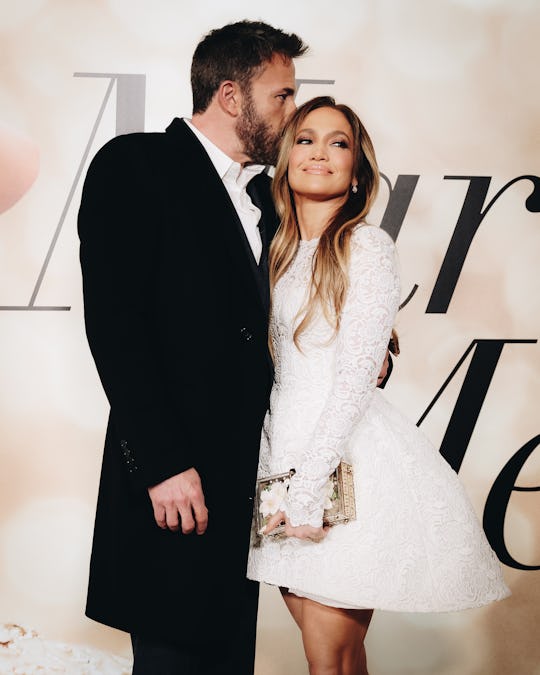 Rich Fury/WireImage/Getty Images
Jennifer Lopez Shared A Super Romantic Video Of Ben Affleck To Celebrate Father's Day
"This is the best time of my life."
Jennifer Lopez and Ben Affleck may have been together in the past, but they have never dated as parents before — and it seems to have made their love grow even stronger. In honor of Father's Day, J. Lo posted a new video that offers a glimpse into her life with the City on a Hill executive producer, and it's filled with romance.
J. Lo is mom to twins Emme and Max, 14, with ex Marc Anthony, and her fiancé, Affleck, is dad to Violet, 16, Seraphina, 13, and Samuel, 10, with ex Jennifer Garner. They are blended family goals, supporting each other at major events and not shying away from PDA. The fact that they are both parents means they understand the importance of putting their kids first, which seems to bring them closer.
"Happy Father's Day to the most caring, loving, affectionate, consistent and selfless Daddy ever," the Marry Me star captioned the video posted to Instagram yesterday. "#HappyFathersDay my love." She also encourages fans to check out her newsletter OnTheJLo.com to see her full post.
The video starts in the car, as J. Lo takes a selfie video with the Argo star driving. It's set to Lopez's "Dear Ben" song, which she released in 2002 when the pair dated for the first time.
Next is a montage of pictures of the lovebirds, including snapshots of the two kissing, embracing on a boat, dancing, and wearing formal clothes for events.
The "On My Way" singer narrates over the song. "This is the best time of my life," she says. "I love my career, but nothing is more fulfilling to me than being able to build a family with someone who I love deeply and who is just as dedicated to family and to each other as we can be. And I'm feeling incredibly blessed."
In May, J. Lo posted a throwback video from 2003 of the couple at a basketball game on Mother's Day. They are adorably young, and you can tell how much their love has gotten stronger since.
Family is very important to Lopez, who also posted several pictures of her dad yesterday, writing, "#HappyFathersDay to the best daddy ever!"
Love is in the air for Lopez and Affleck, and a wedding might soon be, too. A source told Us Weekly on May 25 that J. Lo "wants the formalities out of the way so they can start their journey as man and wife sooner rather than later."
"She definitely wants a spectacular celebration at some point and money won't be an object!" the insider told the outlet. "They're both committed to making this work and taking all the steps necessary to respect each other's boundaries and learn from their mistakes the last time around."
Can you imagine all those kids in the wedding party, celebrating their parents' love? It's going to be amazing!