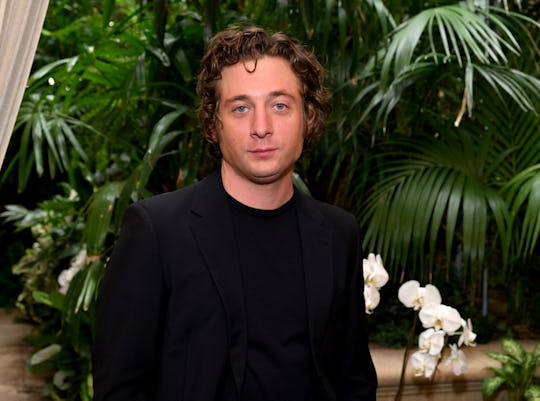 Michael Kovac/Getty Images Entertainment/Getty Images
Jeremy Allen White's Mom Sees Your Thirsty Tweets & Tells Him All About Them
"My mom tells me what they're saying on Twitter, which is nice."
Jeremy Allen White is mature enough to ignore all of the thirst trap commentary that has cropped up since we met him as Carmy in the hit FX series The Bear. He has been in the business for quite some time, after all, and knows to take it all with a grain of salt. His mom is another matter. The dad of two recently told Vanity Fair that his mom checks out Twitter for comments about her son. So just remember that the next time you're thinking of sharing a thirst trap post about the actor. He won't be reading it, but his mom will. And what's more, she's going to tell him.
White, who shares 4-year-old daughter Ezer and 2-year-old daughter Dolores with actress wife Addison Timlin, was asked by Vanity Fair recently how he's dealing with all of the extra attention he's been receiving as a result of his new role. "I really don't pay too much attention to it," he admitted, noting that he has been acting since he was 18 and feels "very lucky that everything's been this gradual because I've been able to find my footing already. I feel really bad for a young actor or somebody who just hasn't had much experience when all of a sudden they break through; it could be more overwhelming in that case."
His mother, however, makes sure he knows what's up. "My mom tells me what they're saying on Twitter, which is nice," he admitted. Maybe she told him about this fan who thinks The Bear's best marketing ploy is having him do things that look hot. Or this person who definitely does not care about the cooking on The Bear as much as seeing Allen "being sexy."
White's mom might be fairly comfortable with scrolling through Twitter to find comments about her son, but he admitted that he still struggles with his relationship with social media. "There were times that I've posted pictures of my children on there, and then I felt like, Oh, maybe I shouldn't do that, but I'm so proud of them, so why wouldn't I share them?" he told Vanity Fair. "I've had this back-and-forth, and I've landed in a place where I think it should be used mostly for either holding up my friends — and projects that they're doing — or just promoting the work that I do."
Instead of spending time on social media, White likes to cook for his daughters at home as a hobby. Especially breakfast, which he told People he makes for his girls "every morning" even though it's nothing "terribly fancy." Humble, a good dad, a cook. Watch out mom. This is bound to start up some more thirst trap posts.