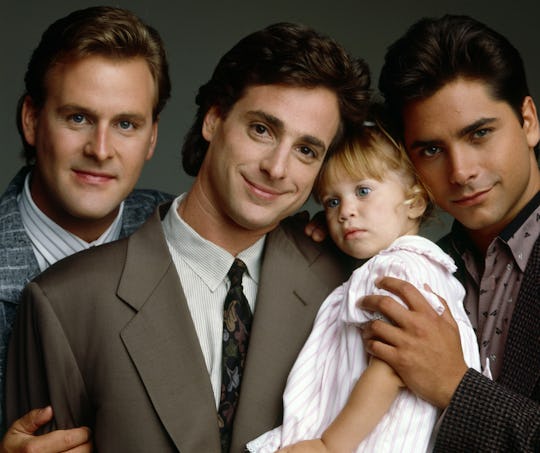 ABC Photo Archives/Disney General Entertainment Content/Getty Images
John Stamos Reveals What The Olsen Twins Said At Bob Saget's Funeral
"Everyone needed to hear that."
Mary Kate and Ashley Olsen grew up in front of our eyes as Michelle Tanner on Full House. They grew up surrounded by television crews and cameras and even paparazzi as they got older. It was a unique childhood that many of us have never experienced. So how do the two women feel about their unusual childhood on film? According to John Stamos, they look back at those years with "fond memories."
Stamos spoke to Howard Stern on Oct. 25 about a lovely moment he shared with Mary Kate and Ashley Olsen at Bob Saget's funeral in 2022, where the actor gave a touching eulogy to his longtime friend. Every cast member from Full House, where Saget played single dad of three Danny Tanner, was present at his funeral, including the Olsen twins, who took turns playing his youngest daughter Michelle.
"They came to Bob's funeral, and it was so beautiful," Stamos told Stern. "They got us all together and said, 'We love you. We loved our childhood. We're grateful for you guys. We thank you for making those eight years so beautiful for us. We have such fond memories.'"
The actor played Uncle Jessie on Full House from 1987 to 1995 and again in the reboot Fuller House from 2016 to 2020, a reboot that did not include the Olsen twins. After spending most of their childhood acting on the popular television series, as well as starring together in a whopping 36 films, it appears as though the sisters have tapped out of acting.
The Olsen twins went on to launch their own fashion line, Elizabeth and James, and Ashley Olsen recently welcomed her first child, a baby boy named Otto with husband Louis Eisner, back in August. A momentous occasion Stamos celebrated on social media with a lovely video and a message about his relationship with them. "Watching Mary-Kate and Ashley grow into the incredibly bright and remarkable women they are today has been one of the greatest joys of my life," Stamos wrote at the time. "If you would have told me those blue-eyed babies I met on set nearly 40 years ago would still be in my life at 60 years old, I wouldn't have believed you. I am blessed. Congratulations to Ashley and her husband, Louis, who welcomed their baby boy last week."
While he has enjoyed a longstanding relationship with the Olsen twins, Stamos went on to tell Stern that "everyone needed to hear" that they felt good about their childhood. And perhaps Full House fans needed to hear it, too.