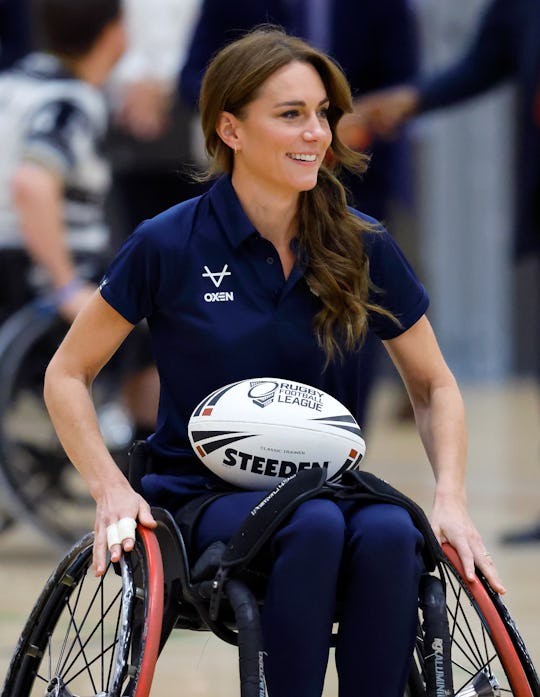 Max Mumby/Indigo/Getty Images Entertainment/Getty Images
Kate Middleton Hurt Herself On Her Kids' Trampoline & It's Not The First Time
Who knew the future Queen was a trampoline-head?
Kate Middleton is nothing if not a fully engaged mom to her kids. She's always made it clear that she's ready to go to any lengths (or heights) to play with her kids on their level, even if it hurts her. Quite literally. The Princess of Wales recently showed up to a royal event sporting an injury acquired when she was on a trampoline with her kids. Because that's the kind of mom she is proud to be. A trampoline mom.
Middleton visited Disability Rugby League players in Hull on Thursday wearing a polo shirt, track pants, a perfect blowout, and tape around two of her fingers. She was protecting her digits after she injured herself on a backyard trampoline with her three children, 10-year-old Prince George, 8-year-old Princess Charlotte, and 5-year-old Prince Louis, per the Daily Mail. This is the second time in three weeks that Middleton has injured herself on a trampoline. Last month she was visiting a men's prison in Surrey and had bandages around her fingers, explaining at the time per Hello! that the injury was "my own fault. I was jumping around on the trampoline. I did put it on just to keep it safe."
While some might be surprised to find that the future Queen is such a trampoline-head, Middleton did say earlier this year that she kept in shape by "running around after the children - I do it all, whenever I can squeeze in exercise I do, even jumping on the trampoline with my children before school," per Hello!
Kate Middleton's injury is a good reminder that trampolines can be incredibly dangerous if proper safety precautions are not taken. In fact, trampoline injuries cause an estimated 100,000 trips to the emergency room per year in the US alone. Trampoline accidents result in sprained wrists, ankles, broken legs, even concussions and neck injuries.
Those statistics have not stopped Kate Middleton from getting in a little trampoline time with her kids, both at home and at a trampoline park. Last summer she was seen kicking off her shoes and bouncing around with her kids at a south London trampoline park, proving both that she's always ready to have fun with her kids and that though they maybe dangerous, trampolines are really, really fun.
Even if that fun leaves her with an injury, she's up for it.