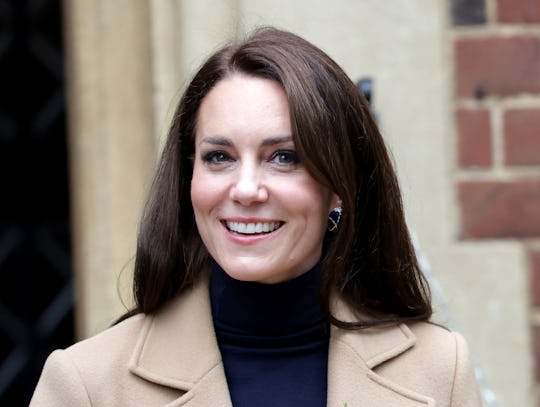 Chris Jackson/Chris Jackson Collection/Getty Images
Kate Middleton Lets Her Kids Eat Pancakes For Dinner In Honor Of Mardi Gras
And some might even end up on the ceiling.
When you think of Mardi Gras or more specifically Fat Tuesday, your brain probably goes to New Orleans and that big last hurrah before traditional Christians hunker down to celebrate Lent by giving up whatever they feel they need to give up before Easter Sunday. And pancakes, obviously pancakes because they are the traditional supper for Fat (or Shrove) Tuesday. But you probably don't connect the royal family with Mardi Gras, but Kate Middleton has some fun plans in store for her kids and it's going to be messy.
The Princess of Wales visited the Oxford House Nursing Home on Tuesday to spend some time with the residents and help them make some pancakes for dinner, as is the tradition for Shrove Tuesday. While visiting with residents, Middleton spoke to a woman named Sheila about her own plans back at Adelaide Cottage in Windsor for the evening. And it was going to be more of the same. The mom of three told Sheila that she planned to be flipping pancakes with 9-year-old Prince George, 7-year-old Princess Charlotte, and 4-year-old Prince Louis despite her struggle flipping the classic breakfast staple.
"I either get pancakes stuck on the floor or on the ceiling, but the children are very well and we will be making our own pancakes this evening with the children," Middleton said, per the Bucks Free Press.
The Princess of Wales tends to love getting messy with her kids, whether she's encouraging them to get outside in the garden or helping her cook in the kitchen. Middleton, who shares her three children with husband Prince William, opened up to chef Mary Berry in 2018 about making pizza in the kitchen with her kids. "I've done that with George and Charlotte — making pizza dough. They love it because they can get their hands messy," she told Mary Berry in 2018. The royal kids have also been known to bake cupcakes in the kitchen with their mom in honor of Remembrance Day, so hitting the kitchen to try their hands at pancakes for dinner is probably right in their wheelhouse.
While Middleton didn't share details about how else she'll be celebrating Mardi Gras with her kids, we must imagine that there will be dancing and music and celebrations throughout the day. How could it be any other way when her kids are all hopped up on sugar?