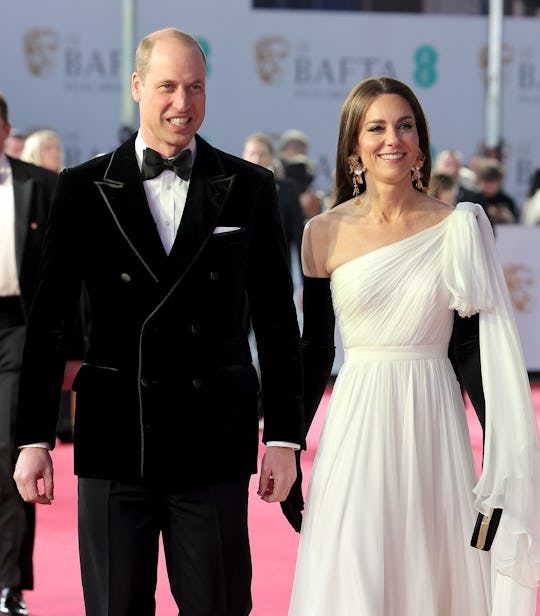 Chris Jackson/Chris Jackson Collection/Getty Images
Kate Middleton Gave Prince William A Little Tap On The Butt & The Video Is Perfection
Talk about a royal PDA first.
Kate Middleton is really coming out of her shell when it comes to public displays of affection. In the past, the Prince and Princess of Wales adopted a fairly hands-off approach while in the public eye, but the past few years has seen them both loosen up a bit. So much so that Princess Kate was seen giving her husband a little tap on the butt while walking down a red carpet.
Prince William and Kate Middleton enjoyed an especially glamorous date night at the British Academy of Film and Television Arts Awards on Sunday. Middleton wore a one-shouldered long white gown with full length black opera gloves for the occasion, while Prince William, who is President of the BAFTAs, was kitted out in a black tuxedo. It's been two years since the couple were able to attend the celebrity-studded gala due to the death of Prince Philip and Covid-19, so they were clearly relishing their date night. A night Middleton found so romantic that she couldn't help reaching out to give her husband a playful little pat on the tush as they walked the red carpet, and the moment was even caught on video to the delight of royal watchers everywhere.
Several royal watchers noted that the cute moment seemed like one borne of being in a solid, long-term relationship. "Tell me you're best friends without telling me you're best friends," wrote one person on Twitter while another added, "That's what true friends do. You can see the love she has for him. Nice!"
While it might not be terribly common for the couple to show a little PDA, it's certainly not as though it never happens. Back in 2020, the couple were visiting an arcade in Wales when Middleton reached out to touch her husband spontaneously, perhaps just excited to get out of the house after several months in lockdown with their three kids, 9-year-old Prince George, 7-year-old Princess Charlotte, and 4-year-old Prince Louis. Through the years they've been known to rub each other's back for comfort, something Prince William did quite a bit when his wife was pregnant.
The pat on the butt is a first though. It does seem to sort of speak to a new level of comfort between the couple, who were married in 2011 and together for nearly a decade before that. They seem to have settled into each other. They're relaxed together, they're friends. And what's a butt pat between friends?