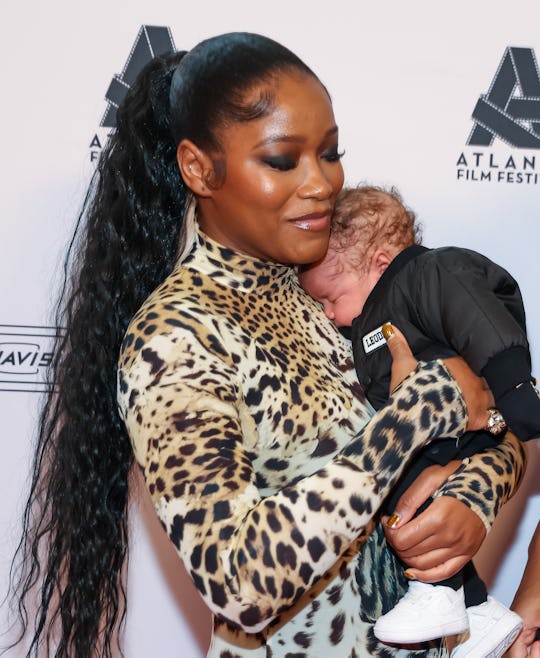 Carol Lee Rose/FilmMagic/Getty Images
Keke Palmer's Son Leo Has Thoughts On His Mom's Outfit In Hilarious Video
"Oh lady. Do you want the truth or what you wanna hear?"
Keke Palmer continues to find the unexpected perks of becoming a mom. For instance, she now has a little partner to perform some sketch comedy with her. And even better, she sort of gets to decide what that sketch will look like because he can't really say anything. She truly has it all figured out.
The Big Boss star took to Instagram on Sunday to share a little video she had filmed with her baby boy Leo, who she welcomed with boyfriend Darius Jackson in February. The video sees Leodis dressed in an orange printed shirt and beige shorts with a newsboy cap on his little head, relaxing back against some pillows while his mother asks for his advice on her fashion choices. Palmer comes spinning into the room wearing a multicolored dress and says, "Leo! I need your opinion! What do you think of this look?"
In a Look Who's Talking-type voiceover by comedian Tony Baker, Leo says in a surprisingly adult voice, "Oh lady. Do you want the truth or what you wanna hear?" She leans down and smiles at him and says, "I love it!" He replies, "Oh, what you wanna hear," while Palmer says, "You like it, right? Right?"
He asks to get back to his life, and "by life I mean nap," while Palmer enthuses, "You always know just what to say to me Leo." Leo notes that "by that you mean just agree with what you say and then I can live my life. Which mean... nap!"
Palmer captioned the video, "Baby Leo has to really HOLD BACK sometimes with Mama's fashion sense."
If Palmer and Leo are hoping to take this show on the road, they'll have lots of people lining up to buy tickets. "That baby dressed like a sweet grandpa 😍 I love it," wrote one social media user. "I'm low key obsessed with this!" wrote another. "Leo is sick of his mama aready...so cute. Keke has embraced motherhood so well," added a fan.
Palmer has indeed embraced motherhood for its many benefits. She has extolled the virtues of being able to set boundaries with people simply by saying, "I'm a mother," and has thanked her little boy for her postpartum body, not to mention her amazing skin. And now we can add comedy partner with impeccable timing to the long list of Leo's attributes. He truly is the little gift that keeps on giving.